Wildcats hope to return wiser, stronger team
The DeSoto High School boys basketball team may have only won a single basketball game this season but the Wildcats built a solid foundation for next year's promising team.
"From the beginning to the end of the season, we got much better," first year Coach Jason Generally said. "The kids outworked every team that we played and they put themselves in a position to win."
Generally said the high point of the season came when the Wildcats defeated the Perry-Lecompton Kaws 48-44 at DHS.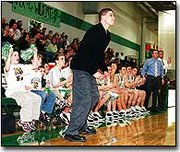 He also noted that close road contests such as the games against Immaculata, Mill Valley and Lecompton gave the young team some much needed experience. The Wildcats also matched up well against Lansing, Generally said.
Evidence of their improvement over the year was the team's performance in the Kansas 4A sub-state tournament. The Wildcats kept pace with Kaw Valley League champion Piper on the Pirates' home floor.
Generally said his team changed its defensive scheme to keep the game close into the final minutes.
"We mixed up our defense from a man-to man in our last game against them to a tight 2-3 zone," Generally said. "It was very effective and it kept them off balance."
While DeSoto will lose its Kaw Valley All-League honorable mention guard Chris Dexter to graduation, Generally said that next year's senior-filled team would provide the essential leadership that Dexter showed this season.
With more seniors to share the responsibility, Generally said he expects his team to be more competitive .
"We will have Todd Manson and all of our seniors coming back next year," Generally said. "We also have a great core of freshmen and sophomore players. Varsity spots will be very competitive next season."