Students witness fatal crash
DeSoto students escape injury as Eudora man dies in weekend accident
Fourteen occupants of a DeSoto school district bus were unharmed in an accident that claimed the life of the driver of another vehicle Saturday near Baldwin City.
The accident occurred as a bus carrying 11 members of the DeSoto High School forensics team, the team's sponsor and bus driver collided with a 1987 Chevrolet Suburban driven by Robert D. Cronin, 42, Eudora. The bus was returning from a competition at Santa Fe Trail.
According to the Kansas Highway Patrol, the northbound vehicle, driven by Cronin, was struck by the eastbound bus when he failed to stop at a stop sign at the intersection of U.S. Highway 56 and Douglas County Road 1061.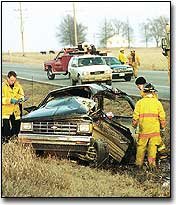 Cronin was a former resident of DeSoto. His obituary appears on Page 3A.
DeSoto High School Principal Debbie Lynn said she and other school officials met the students at the high school upon their return.
"We talked this thing out some," she said. "They know we're here for them."
The high school counselor and social worker are available for students needing to talk about the experience, Lynn said. Before school Monday, she told teachers of the accident so that they would be aware of the students involved.
"I'm very proud of how the students reacted to the tragedy," she said. "They're sending flowers for the victim's family and have been very, very supportive of the bus driver (Tracy Copes)."
DHS junior Nathan Say said the forensics team was in a good mood before the accident. All but two of its members had qualified for state competition that day.
"It darkened the mood real quick," he said of the wreck. "I'm still is shock by the whole thing, even through it's been five days.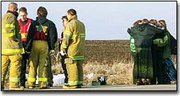 "Our teachers have been very supportive. They've allowed us to put off tests and quizzes if we needed to."
Immediately after the accident, team members were composed enough to use the bus' fire extinguisher to put out a fire in the Suburban, Say said.
Board member Sandy Thierer, whose daughter was on the bus, said she was impressed by the way Laidlaw Inc., the district transportation contractor, responded to the accident. The company rushed another bus to the accident scene and later called each of the 11 students to check on their welfare, she said.
The accident caused the postponement of Saturday's performance for the high school's spring play "You Bet Your Life." The performance was rescheduled for Wednesday.
More like this story