Neeland, Anderson advance in mayoral race
Surviving candidates for DeSoto city offices said Tuesday's primary results indicate they have a lot of work to do.
City Councilman Duke Neeland finished first in the mayoral race with 237 votes or 40.3 percent. DeSoto Planning Commission Chairman Dave Anderson finished second with 204 votes. Former City Council member Mary Guntert finished third with 146 votes and was eliminated from the race.
"It's not over," Neeland said. "I'm going after Mary's votes."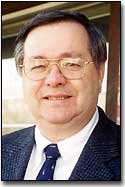 Anderson was encouraged by his finish and vowed to work hard over the next five weeks to pick up the 40 votes he needs to overtake Neeland in the April 3 general election.
"I need to get out and get the real work started," he said.
Both mayoral candidates said they would be going door to door in March and engaging in other activities to increase their visibility.
The primary left a current city councilman, former councilman, former school board members and political newcomer battling for the two city council positions. Former councilman Jim Cannon finished first with 220 votes and incumbent Tim Maniez was second with 215 votes. Also moving on were Max Atwell, who earned 206 vote, and newcomer Emil Urbanek with 174 votes.
Clyde Sanders and Diana Zwahlen's fifth- and sixth-place finishes eliminated them from the race.
Former City Councilman Cannon said he was proud of his finish, but noted only 46 votes separated the first four finishers.
"I'm going to get on the ball now," he said. "I'm going to get out door to door and talk with the people."
Atwell also vowed to step up his campaign with a door-to-door effort in the month ahead. He called the finish of Urbanek, a man new to local politics and a relative newcomer to DeSoto, the biggest surprise of the night.
"He probably worked harder than any of us," Atwell said.
Urbanek said he knocked on the doors of 85 to 90 percent of the city's registered voters during the primary season.
"I was pretty unknown," he said. "I'll keep at it keep pressing streets, water and my personal thing of electing the council by precinct."
All the candidates speculated there are more votes to be had in the general election because Tuesday's snow storm limited voter turnout. Poll workers reported turnout was especially light in the afternoon.
According to the Johnson County Election Office, the 587 votes in the mayoral race would represent a 21 percent turnout of DeSoto's registered voters.
The Johnson County Election Commissioner Connie Schmidt said difficulties in gettng precinct results to Olathe delayed posting results until 10:30 p.m.