Dorothy Nalley said Tuesday was a new experience.
In 48 years of working the polls, Nalley said she had never seen it snow on election day as it did Tuesday. The heavy snow contributed to another first for Nalley.
"This is the slowest I've ever seen it," she said as she sat at a table in the DeSoto Baptist Church basement.
Working the polls at DeSoto's 2nd Precinct with Nalley Tuesday were Norma Longhofer, Margaret Johnston and Hubert Osburn. Although her three companions didn't have Nalley's experience, they're all veteran poll workers.
"I've been doing this since 1995," Longhofer said. "We have a good time."
Longhofer was the precinct's supervising judge. She ascended to that position when Nalley was forced to miss an election six years ago while recuperating from surgery.
Johnson County Election Commissioner Connie Schmidt said she doesn't worry about finding people to work polls in DeSoto with a cadre of longtime workers like Nalley, Longhofer, Johnston and Osburn.
That is not the case in much of the county.
"It's always a challenge, particularly in new growth areas of predominantly younger families," she said.
First-time election workers are required to take three paid hours of training, Schmidt said. On election day, they arrive at the polls at 6 a.m. and stay until the election is over at 7 p.m. The precinct supervisor is responsible for transporting cartridges from the electronic voting machines to the election office in Olathe, she said.
For their day's work, poll workers receive $70 and a supervisor earns $85, Schmidt said.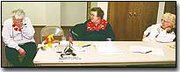 Clubs and civic organizations have been invited to adopt a polling place as a fund-raising project. In another attempt to recruit poll workers, county high schools, including those in the DeSoto school district, participate in a program that excuses students for a day to work at the polls, Schmidt said.
All four of the poll workers in the Baptist church signed a form volunteering to work the April 3 general election. But Schmidt said there are plenty of opportunities for interested DeSoto residents to work polls in other parts of the county that day.
Osburn said that is what he did in the past, but asked to work in DeSoto for Tuesday's primary. The snow made it a good decision, he said.
Schmidt encourages poll workers to bring something to keep them occupied during low-turnout elections. Tuesday, Johnston had knitted the better part of a potholder by mid-afternoon.
"It may be an afghan before I'm finished," she joked.
Voting machines have made the job easier even during the busiest elections, Nalley said.
"I remember when Eisenhower ran for President in 1952, we were counting paper ballots until 2 a.m.," she said. "Dr. O. Wright stood over us breathing down our necks."
About the only decisions the poll workers make now is one to give provisional ballots to would-be voters whose names don't appear in the registration book, Longhofer said.
While she enjoys the company of her fellow poll workers and voters, Longhofer said she works elections out of civic responsibility.
"I think it's important for people to vote," she said. "It makes me very sad people don't take their responsibility to vote more seriously."
More like this story