A different kind of medicine
DHS

graduate treats body, mind and soul
To De Soto High School graduate Jennifer Miller, medical school is not about just mastering anatomy and biochemistry or recognizing classic symptoms. It's about the everyday people behind the medical histories and lab reports. It's about improving quality of life.
Miller, a 1992 graduate of DHS, is all too familiar with the questions life poses as a person strives to achieve a dream. Her three years at Kansas University School of Medicine have included everything from debilitating injuries to financial and emotional hardships. Yet Miller has never lost sight of her goal to make important changes in the delivery of health care. However , she has had to face many challenges along the way.
"She is an energetic, outgoing person who has always taken the initiative to think of projects that would benefit the entire group of students, and she does a lot of projects for the community, as well," said Dr. Valerie Montgomery Rice, associate professor of obstetrics and gynecology and faculty mentor for Students for Women's Wellness.
Miller, who has been named the School of Medicine's 2001 Student Leader of the Year, is president and co-founder of Students for Women's Wellness and president of Medical Students for Choice. As leader of these groups, she dedicates up to eight hours a week organizing guest lectures and planning events that focus on new ways to improve heath care and educate future physicians. Past topics have ranged from preventive health and domestic violence to breast cancer awareness and abortion rights.
Miller and a handful of her classmates founded Students for Women's Wellness after they discovered the typical medical curriculum was deficient in areas of women's health. They were also concerned by reports that women often were diagnosed later than men and that women's medical concerns sometimes were treated less seriously than their male counterparts'.
"We really want this organization to be about learning to treat female patients better and understanding why women aren't being diagnosed sooner," she said.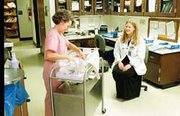 Perhaps she is particularly sensitive to the plights of common patients because she has shared many of their burdens. In her 27 years, Miller has been the uninsured patient saddled with seemingly insurmountable medical bills. She has been a full-time student working three jobs, 65 hours a week, and barely scraping by. She has been the caretaker of both her younger sister and father. She has been an uninformed medical consumer who wasn't aware that what she didn't know could hurt her.
"These experiences have given me a much better world view," she said. "I look more closely at other people's adversity and where they're coming from, and I have more empathy for them and their situations."
Firsthand medical training
When Miller was 18 and a freshman at Southwest Missouri State College, she broke her leg in several places in a freak fall during a snowball fight. Surgeons reassembled her leg bones with pins and rods. The treatment required multiple surgeries and six months of rehabilitation.
But her medical bills inflicted the most damage. Without insurance, savings or financial support from her parents, she was stuck with a $15,000 debt.
As soon as she could walk without crutches, Miller took three jobs. At times, she worked 65 hours a week and maintained full-time-student status. She attended classes in the morning, first at Johnson County Community College and later at Kansas University. She worked in the afternoon as a bank teller. After the bank shift, she donned a waitress uniform and worked into the evening. Overnights, she manned the KU Medical Center EKG lab as a technician. During the little time remaining, she studied.
"I really don't remember sleeping for four or five years," she said, smiling.
Miller said creditors called her weekly, but no one offered advice or guidance for managing the debt. She realized then the poor and uninsured were often pigeonholed as unreliable and unworthy, and she vowed never to do the same.
"Today, I can see the progression," she said. "I can see that these bills are not going to mess up my plans. But think if you had no hope, no education. I don't know how people get through it."
When her leg began to heal, Miller felt the pain of another medical weakness the sting of inadequate health care. Stretched between school and three jobs, she postponed surgery to remove the pins and rod from her leg. She was told they could come out at any time. She didn't know that prolonging the surgery might cause serious damage to the leg, or that it might permanently prevent physicians from ever removing the hardware.
She learned these risks only after the heads of the pins had worn to the surface of her skin, causing pain and constant irritation. By then, much of the damage had been done. Surgeons sawed off the pinheads, but were not able to remove the rod without further damaging the leg.
"A lot of it was my fault," she said. "I didn't ask the right questions. But I also didn't have good follow-up care. I didn't receive the continuity of care that might have prevented that. It wasn't until I started feeling the discomfort and asking the questions myself that I learned the risk factors."
The pin remains in the center of her femur, and Miller knows that excessive pressure on her leg could induce a break, during which the bone surrounding the pins would shatter.
This experience was the epiphany that shaped her decision to become a physician. Although previous inhibitions caused her to doubt herself, she then knew that she did have the strength and tenacity for medicine and she wanted to make it her tool for helping others who were overlooked and underestimated.
"I saw medicine as basically the highest position you can have that you can still interact with people," she said. "You can make so much of a difference. You can open the doors for people."
Healing the home
Miller seems to have natural care-giving instincts. Just months after her injury, she became the caretaker of her little sister, Jessica, and, soon after, her aging father.
Sixteen-year-old Jessica moved in with her older sister after their parents' 18-year marriage ended. While their parents reconstructed their own lives, the sisters decided to live together on their own.
Barely an adult herself, Miller became a surrogate parent. She took the job seriously. She worried about her sister as though she were her mother.
"I felt so much responsibility," she said. "I wanted to give her things I didn't get. I didn't want her to struggle like I struggled."
Jessica is now a third-year medical student at Washington University in St. Louis.
Miller's instincts proved valuable again when her father, Paul, was diagnosed with bladder cancer a few years later and moved in with her.
"My dad was living in this tiny studio apartment with his little dog and just a mattress," she said. "No other furniture, but maybe a steel pot. And he would leave the stove on. It was really depressing to me, this guy who had given us so much growing up. I couldn't handle seeing him like that."
While most first-year medical students spend any free moments between classes tackling their daunting course material, Miller spent much of her time helping her father tackle the demons of his disease.
Throughout the 18-month treatment course, she took her father to and from doctors appointments, tended to his needs at home and even learned to insert his catheter. She also worked an average of 30 hours a week at KU's EKG lab to help support the two.
"She was always in my corner," Paul Miller said. "She'd drive me to the hospital for treatment or surgery, and when it was time to go, she'd find some space in her big day to bundle me up and take me home.
"She has the right attitude toward people," he said. "She's not mean or ornery at all. From explaining what a person is suffering from or not suffering from, to explaining a prognosis, she'd be the gentlest person in the world."
Miller said her father's illness made her more realistic about the world.
"It's also made me more sensitive and more bitter," she said. "You can work as hard as you want, and there are some things you can't work your way out of. Bad things happen to good people."
Pursuing a specialty in obstetrics and gynecology with her eye on graduation in May 2002, Miller is determined to improve her own outlook and that of others.
"Every day I'm dedicated to loving what I do," she said. "I still put my best face on and say, 'This day is going to be good. It's going to be OK.'"