Wouldn't you like to be a Pepper too?
Perkins joins elite summer league, prepares for college
Although Ashley Perkins' high school career ended when Mill Valley lost in the 4A state championship, her softball career is far from over.
Perkins played in an American Softball Association tournament in Los Angeles two weeks ago with the Kansas City Peppers in the 19-and-under division. The Peppers went 4-1 and took fifth place out of 40 teams.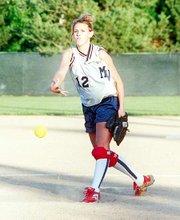 "We did really well," Perkins said. "Teams in California are supposed to be the best of the best."
Perkins had a strong showing in the tournament as well. She went 2-0 in her two starts and had an ERA to be proud of.
"They didn't score any earned runs on me," Perkins said.
The ASA season will last until early August and the tournaments will be a little tougher from now on. The Peppers will play in tournaments in Omaha, Neb., St. Louis, Mo. and Colorado, among other more local sites.
Perkins got involved with the Peppers after she pitched against them a few years ago.
Perkins said Peppers coach Dan Eakin thought she pitched well against his team and asked her to play for him.
Mill Valley coach Pat Sullivan said Perkins made a wise choice when she decided to join the Kansas City team. There is something to be gained by both sides, he said.
"The Peppers have great coaches," Sullivan said. "And she's a great pitcher."
The 19-and-under team Perkins plays for also allows some college players to participate.
Players from Iowa State, Louisiana Tech and Missouri also play for the Peppers.
"They bring a lot of insight into the game that maybe you wouldn't have thought about before," Perkins said of the collegiate players.
Perkins will join the collegiate group next season when she starts her career at Washburn in Topeka.
The outgoing Jaguar had an offer from Auburn University in the SEC, but decided to play at nearby Washburn.
"It was a little too far away from home," Perkins said about Auburn, which is in Alabama.
The 19-and-under division is the oldest youth level in ASA. The Peppers also have teams in the 16-and-under, 14-and-under and 12-and-under divisions.