Copeland shares in Pastor of Year award
Easter Sunday came with an extra gift this year for the Rev. Richard Copeland. Near the end of the service, De Soto Baptist Church deacons announced Copeland's Pastor of the Year nomination and presented him with a winner's prize certificate and leather-bound Nelson Study Bible.
"It was quite a surprise," Copeland said. "I've always known my congregation loves and supports me, but it was so nice to be recognized in this way. It was a wonderful expression of appreciation."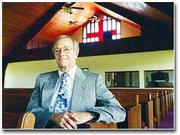 Copeland is one of 400 nominees from Crossings Book Club's Pastor of the Year contest. The Christian book club accepted nomination letters written by church congregations from across the United States and Canada. The organization planned on choosing 25 winners, but because of the impressive turnout, Crossings' newsletter reported a 400-way tie.
"I agreed with the decision, because I believe that all the other pastors are just as much if not more deserving than I am," Copeland said. "All pastors do pretty much the same thing because it's our job and we are called to do what we are called to do. Once someone is around as long as I have been, I guess people are bound to eventually nominate you."
Copeland has been pastor at De Soto Baptist for about 34 years but said he couldn't have lasted so long in the church without its members.
"I couldn't survive here without the people in the church," Copeland said. "They are wonderful, and they give moral support and prayers."
As part of the original committee that chose Copeland to be pastor, De Soto Baptist member Jean Epperson said she was especially thrilled about Copeland's award.
"We had him speak at our pulpit just once to see how the congregation felt about him, and we voted him in unanimously," Epperson said. "I don't think anyone has been sorry about that decision. He has such a loving and caring spirit, and he has compassion for all the people of De Soto."
Richelle Hodges, church member and Copeland's daughter, said she and the congregation thought that among other attributes, Copeland's active part in both church and community rendered him a deserving candidate.
"He has touched so many lives," Hodges said. "Growing up, everybody in town would stop to talk to him because he always made himself so available. He still does that today."
Although Linda Zindler is not a De Soto Baptist member, she said Copeland has never failed to reach out to her family. Zindler, city council member, said she got to know Copeland when her family moved to De Soto from Shawnee in 1995.
"He extended himself outside of the church to welcome us and other newcomers to this area," she said. "I think this was a wonderful nomination. The award couldn't have gone to a better man. He is a spiritual and community leader and an all-around nice guy."
More like this story