Turning pain into hope
Song writer brings inspiration to
Friendship furnished Billie Jean Callahan with a spark of artistic inspiration that is providing hope to people battling cancer.
This winter, Baldwin City resident Callahan wrote a song that has proved so popular at American Cancer Society Relay for Life rallies that there is a movement to make it the official song for luminary ceremonies that occur during each event. Despite her own successful battle with cancer, Callahan said she had never attended a Relay for Life before she wrote the song. The song's inspiration was a photograph she received of a friend's daughter.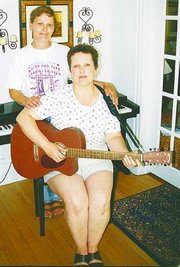 "I looked at the photo, and on the bottom was the word 'stars,'" she said. "When I saw that picture, my mind started reeling. I woke up at four in the morning, went down to my office and wrote 'Luminaries.'
"What really puzzles people is that I had never been to a Relay for Life. But, people say I really captured the essence of why people need to attend the event."
Callahan first performed the song earlier this spring at the Baldwin City Relay for Life. From that performance, she received requests to sing at relays throughout the summer. She will return to her hometown of De Soto to perform the song Friday evening during the luminary celebration (see related story, page 2A, for the event schedule).
While she is new to Relay for Life, Callahan is familiar with cancer. At the age of 19, she was diagnosed with uterine and cervical cancer. A botched hysterectomy, by a surgeon who later lost his license, led to 10 more surgeries.
"As far as cancer, I've been clear since 1979," she said. "Now, I just deal with the aftermath. I have chronic pain from the adhesions from all my operations. It's the first little uphill climb in the morning."
Her sister, Bernice Childers of rural De Soto, also developed uterine cancer. The sisters' grandmother died of brain cancer, and an aunt is terminally ill with lung cancer.
"She's never smoked a day in her life," Callahan said. "You might as well call cancer Quantrill's disease, because it ravages communities."
Callahan said she hopes the song increases cancer awareness and sustains hope in people who are fighting the disease.
Her creation may get a bigger stage to accomplish those goals. Since she first performed the song in Baldwin City, state representatives have asked the American Cancer Society to adopt it as the official song for all Relay for Life luminary events, Callahan said.
As the request goes through the society's organization process, Callahan said there had been enough positive comments to make her confident her song would be adopted.
Meanwhile, Callahan has so many requests to perform this summer that she is making a recording to send to events she can't attend.
Callahan said it seems natural to write a song that brings comfort to others.
Music has been a private source of solace that helped her cope with chronic pain, she said.
"I've written other songs, but I've always kept my work private," she said. "I feel like with this song, I finally touched my heart. If it gives people hope, I am certainly blessed."
In contrast to her sister, Childers has participated in the De Soto Relay for Life since 1997. It is something she said she feels compelled to do as a cancer survivor.
"It is such a deadly disease," she said. "I see and read of little children who are stricken. If I can say I helped find a cure for it, I think that would be great."
Her sister's performance will make this year's luminary special, Childers said.
"I've had people tell me, 'The song made me cry,'" she said. "I think it's wonderful she can touch people that way. I'm very proud of her."