High-flying fun at the Library
Aviation legend comes to life at the De Soto Public Library
Eunice Richford wore what she admitted was a scandalous outfit to address a group of De Soto children last Thursday.
By today's standards, the outfit's most outlandish features were the leather pilot's helmet and goggles the woman pilot wore. But Richford said that in her day, people were scandalized by the fact that she was wearing trousers.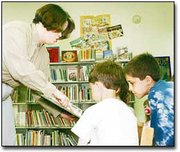 "I wear pants," she said. "Don't even get my husband started on the fact I wear pants."
Her husband's displeasure of such an innocent wardrobe decision can be explained by the fact that Richford is a fictional character created by Overland Park resident Lori Triplett. The 1936 aviatrix was introduced to the world during the De Soto Library presentation.
As Richford, Triplett explained to the children that early women flyers found trousers a natural solution to flying dirty, cold, open-cockpit planes. But public outrage to the attire was such that the pilots nearly always changed into dresses before having their pictures taken.
"One of my friend's parents got so upset about seeing a picture of her in pants, that she wears a skirt and blouse under her flying outfit," the 1930s flyer said. "She's a little wrinkled (in photos) but she's appropriately dressed."
Public disapproval of women in trousers illustrates the kind of thinking early 20th century women had to overcome to become pilots, Triplett said.
That didn't stop a number of women from becoming pilots in aviation's early days. Among them were two Kansans the famous Amelia Earhart and the lesser known Louise Thaden. The two were entrants in the first Powder Puff Derby, a name Will Rogers condescendingly gave the women's cross-country race.
Thaden used what she learned from that competition to win a later cross-country race against all-male contestants.
"She learned in the women's derby that it was not always the fastest plane that won. Slow and steady mattered," Triplett said.
"I didn't want to take credit for a real person, so I invented a fictional character who knew all those people," Triplett said after the presentation.
While she has other programs lined up, Triplett has greater ambitions for her fictional character. She is working on expanding the one-person show into a full-length play and will soon visit the Women's Air Museum in Oklahoma City to do further research.
"I want to finish it this summer," she said. "I hope I can tour with it in schools."
More like this story