Mill Valley student works to prove his aim is true
The general opinion among football players is that kickers are weak. At Mill Valley High School, that couldn't be farther from the truth.
Last year, on the last day of school, MVHS's head football coach, George Radell, had soccer player Brandon Simpson work out for him. No, Radell didn't want to see any of Simpson's fancy soccer moves or defensive drills he wanted to see him kick.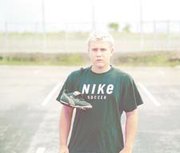 "We knew he could kick the heck out of the ball," Radell said. "He had always been a standout in soccer, so we wanted to give him a try out."
What that "try out" revealed was that Radell was right Simpson could kick the heck out of the ball. Radell said Simpson nailed four of five field goals from 45 yards out, and he was 100 percent from every distance inside of that. Simpson also booted some kickoffs for the football coaches and every kickoff he hit went to the five yard-line or into the end zone. That impressed Radell almost as much.
"We've done it all on kickoffs," Radell said. "We used to squib right or squib left, but now with Brandon kicking, I'm confident that we can just huddle up and say deep kick."
In high school football, kickers with range and accuracy are few and far between. Radell said he knew he had a good one in Simpson and that the added element has him looking forward to the new dimension on his football team.
As for Simpson, he is equally as excited to be playing football in addition to soccer because at his position the two sports are so similar.
"It's a little different kicking a football, but the basics are the same," Simpson said.
With that in mind, Simpson's summer workouts have not changed. He said he usually works out in the summer to prepare himself for the soccer season, so preparing for football hasn't brought too much change. But he also said instead of just lifting weights with his lower body to gain speed, he's also now looking to get stronger.
"I've been working a lot on my legs," Simpson said, "for speed in soccer and power for football."
Simpson said he often gets excited about the prospects of nailing a return man after a kickoff and making a highlight film, but as the soccer team's sweeper, contact is something he's familiar with.
"In soccer you can still take people out and hit them, but it's not the same as it is in football," Simpson said. "I don't really want a guy to return a kick that far, but if he does and I get a shot to nail him, I'll take it."
Simpson will be extremely busy this fall with the soccer and football seasons overlapping. Radell, however, said he'd be understanding about the fact that Simpson is a soccer player and that he'd just like to have him to kick.
"That's a huge weapon," Radell said. "I'm kind of excited about Simpson kicking for us."
Both football and soccer practice will get underway for Simpson on Aug. 13.
More like this story