A fountain of youth, racing in from the past
Dean Weller said he believes to have found the fountain of youth in restoring vintage autos. But the only liquid found in Weller's fountain of youth comes in the form of oil and gasoline.
At 75 years old, Weller said he feels young by repairing older cars, such as classics like his 1924 Model T and 1929 speedsters.
Weller began collecting antique and classic cars after retiring from homebuilding in De Soto 23 years ago. Weller said his desire to get into rebuilding and collecting antique cars became a reality after his time was freed with retirement. Now, he's devoted to looking for, buying and building cars for his classic collection.
"That gives me a lot of pleasure that you can take all those bones from cars that are dead, putting them together and getting them on the road again," Weller said.
When he started rebuilding the cars, he began from scratch. Weller said he learned from "old-timers" who knew how to work on Model A and Model T Fords. He said the learning process was fairly easy.
"I guess a lot of it would just come natural," Weller said of his building ability. "You can understand Model A's and Model T's because there isn't much to them."
After he got started, Weller said he realized he needed to find room for a shop and storage. He purchased a building on West 83rd Street, once used for repairs on early Ford models. His new building only fed his craving to build.
"I had some spare room, so that turned me loose on to buying more of them," he said.
Weller found used parts and discarded cars at swap meets, auctions and on the edge of the road with a for sale sign, enticing him to bring them back to life. His current project is a 1928 Chevy, which has a body made of wood, that Weller built from the ground up. He said he decided to try an older Chevy because he wanted a challenge from his usual Fords.
Out of his collection, Weller said he is torn between two favorites two 1929 speedsters. He said the two cars bring out his youthful side, and he has a hard time picking between the two.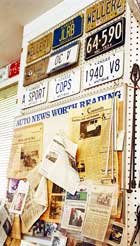 "They're so much fun to drive with the wheels out in the open," he said. "It makes you feel like racing. I relate to these. Back then, I was saying, 'If I could only have one of these cars.' Now, I can't get enough of them."