Fountain flowing at Miller Park
The fountain at the Miller Park flag memorial is now working, but the De Soto Enhancement Committee is still seeking donations to pay for the project.
The fountain became the Eagle Scout project of 14-year-old Casey Johnson. Wet weather this spring slowed work on the project.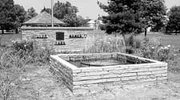 Last week, water was turned on at the fountain that once graced a downtown Kansas City, Mo., hotel. But, work at the site is not completed.
Forms for the sidewalk are to be set this weekend, said Casey's mother Tammie Johnson, a member of the enhancement committee. Lights that will illuminate the fountain must still be installed.
The sidewalk will contain the commemorative bricks that will pay for the project. Johnson said the enhancement committee must sell more of the bricks to balance the books for the project.
The bricks can be viewed in the De Soto Chamber of Commerce office in downtown's Memorial Hall. Bricks sell for $50 to individuals and $100 for businesses, Johnson said.
The enhancement committee must order bricks in lots of 30, Johnson said.
"We've have five more sold, but we need to finish out the lot," she said.
Those interested in buying bricks can call the Chamber office at 583-1585 or Johnson at 583-1256.
More like this story