Football camp provides glimpse into
DHS

future
The Wildcat football camp began Monday under the direction of De Soto head coach Brad Scott, assistants Brad Qualls and Toby Weir, and coaches Justin Haub and Bart McGivern.
Haub and McGivern haven't become an official part of the Wildcat coaching staff yet, as they still have a senior season to play for De Soto, but they helped the Wildcat program this week, teaching a group of fourth through sixth graders the fundamentals of football.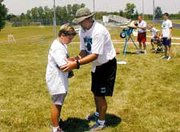 Haub, who began playing football in the seventh grade, said the Wildcat football camp gives the kids an early start and shows them how the game should be played.
Haub also helped out at this year's basketball camp and last year's football camp.
"I have a lot of fun with these kids and they work hard for you," Haub said. "The coaches are teaching them the fundamentals so they won't have to re-teach them in high school."
Qualls, the Wildcats' defensive coordinator, said the camp helps to end myths of how kids should play football and gives them the foundation to be playing in the future years.
"It's good to get them involved at an early age," Qualls said. "These kids watch football on television and they try to emulate their favorite players, but this shows them the fundamentals. It also gives them something to do with their friends in the summer."
Scott said the camp would consist of fundamental drills, including passing and catching, with certain drills building on the previous ones. He was also pleased to have Haub and McGivern on hand as coaches for the four-day camp.
"We always build on something we've done before," Scott said. "We are also showing the kids role models. We get used to the kids and they get used to seeing the coaching staff."