Detour for school construction
The De Soto school district's construction projects in the city are on schedule, and that means traffic detours in the near future.
District facilities director Denis Johnson said contractors are in the finishing stages on a new wrestling room at De Soto High School and are making good progress on the upgrade to the Lexington Trails parking lot.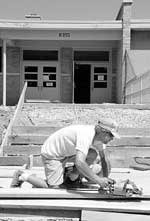 Curbs will be poured in the Lexington Trails parking lot this week, Johnson said. When that is completed, the lot will be paved.
Work will then shift to improvements to Penner Avenue, where the city is changing the alignment of the west Y.
City engineer Mike Brungardt said he received notice from the contractor that work will begin on Penner July 23.
Work on the realignment, which eliminates the long southbound access lane to Lexington Avenue, will close Penner for four weeks, Brungardt said.
The "major headache" will come with a pavement overlay of Lexington Avenue next month, Brungardt said. That work will require closing Lexington to traffic for two days.
"We don't have an exact date on that yet," he said. "It will be sometime in the middle of August. We'll have to detour around that."
The second phase of renovations to the downtown service center began in May, Johnson said. Remodeling of the old elementary school's upper level into office space should be completed in October, he said.
The most noticeable work at the site now is construction of a parking lot on the east side of the building. The lot will provide parking spaces for 30 employee and district vehicles and should reduce the downtown parking crunch, Johnson said.
Although the first phase of the renovation converted the stage in the building's gymnasium into warehouse space, the gym has been left intact, Johnson said.
The completion of the present renovations would provide additional rental space for community events, he said.