Stock up on your favorite, most powerful allergy medicine, because two corn mazes in the Eudora area offer picturesque labyrinths just waiting to be discovered.
For its third year, Pendleton's Farm at 1446 East 1850 Road has opened a maze designed out of a cornfield. With notable crop artist Stan Herd at the helm, this year's corn maze differs slightly from the previous turtle and butterfly designs. This year's design is a prehistoric fish, Xiphactinus.
"It looks like a big nasty catfish on steroids," said John Pendleton, land owner of the corn canvas. "We've kind of been going with natural history, a biology theme such as turtles and butterflies."
No stranger to making designs out of the average cornfield, Richard Strong will also have a theme design this year at Strong's Farm, located at 1919 North 1500 Road. Though Strong designed corn mazes in the past, such as those for Halloween, this is the first year of three his farm will be slightly more artistic. Strong cut the shape of Kansas in his field, with a "Kansas Jayhawker" in the western half of the design. The eastern half highlights trails of Douglas County from 1850 to 1870, which were used during Quantrill's Raid and the Civil War.

Strong said he picked the historical aspect to give a different flavor. Maze-goers can journey through the history of the trails, or get lost in the torso of the image resembling a Jayhawk.
"What I did was, I tried to find different ideas," Strong said. "I wanted a different type of atmosphere of corn maze than most people are accustomed to."
Both maze owners plan on offering more than just a walk through a giant artwork. Pendleton said his farm received visitors from every state in the U.S. in addition to visitors from over 30 countries. While there, visitors can shop for produce and flowers after trekking through the stalks of the prehistoric fish.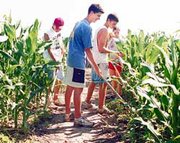 Strong's Farm will have food vendors, a petting zoo and games available for children.
"We're trying to find games that would have been used 80 to 100 years ago," Strong said.
While owning a corn maze may seem to be a bit eccentric, both landowners agree it's merely another way to make use of agricultural land other than farming.
"We're hoping to obviously create an income," Pendleton said. "I think the hard reality of agriculture is we're in tough times right now. Agriculture is not profitable right now. What I want to do is try and get away from as much government help as I can."
Strong agreed, adding farming is a lifestyle he's known for most of his life.
"I'm merely trying to find a different way and be diverse and find a living other than what I've done my whole life," he said. "I really enjoy farming. If I had a million dollars, I'd go buy more farmland. It's (like) a legal form of gambling."
Strong said he hopes his maze will pay off not only for himself but also for charities. This year, he'll donate a portion of the proceeds to help fund the building of the Eudora Habitat for Humanity house.
"For two years I've been giving food away to the food bank in Lawrence, but this year I heard they were trying to put a house in Eudora through Habitat for Humanity," Strong said. "I just thought I'd see if I could help.
"I feel like you have to give back to people. After all, they are supporting you."
The Pendleton corn maze opened Saturday and will continue throughout the fall. The maze is open from 8 a.m. until dusk, Monday through Saturday. Prices are $7 for adults and $5 for children ages four through 12.
Strong's Farm hours are from 9 a.m. to 8 p.m., Wednesday through Sunday. Admission is $7 per person.