Even dogs need a place to kick back and relax. Thanks to Greg Oberhelman, owner of the Triune Canine Training and Country Resort, 8410 Edgerton Road, De Soto, dogs can learn how to behave as well as relax.
Oberhelman, 47, started the business in 1986 and moved it from his native Kansas City, Kan., to its current location a year later. Through the course of the year, the resort has about 800 dogs visit, most of whom stay one to three weeks. Oberhelman and his six-member staff offer obedience lessons for any breed of dog, behavior modification, private obedience lessons and group classes as well as climate-controlled runs for the dogs. He works with veterinarians in Johnson County and Lawrence to gain clientele to Triune.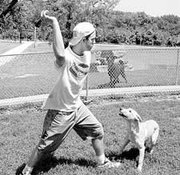 Oberhelman got involved in dog training as a hobby in 1978 while he was working on the assembly line at the General Motors plant in Kansas City, Kan. He learned about dog training from a former military dog handler and instructor. He thought that it would be a good idea to open a business that would provide an outlet for healthy dogs and those who may have otherwise been put to sleep.
"I basically started off the business as a professional trainer and got tired of watching dogs being put to sleep," Oberhelman said. "And, I like working with people and pets."
The property includes giant exercise areas for the dogs, which Oberhelman says plays a major part in having the dogs return to their owners much more relaxed. At the time, Oberhelman's idea for a dog resort was somewhat out of the ordinary. It is currently one of the only ones in the Kansas City area. Unlike other places where dogs stay on vacations, Triune guest dogs run and play outside for 40 minutes a day.
"It is a different concept but we have the size of area to put groups of dogs together and have social interaction," Oberhelman said. "Its real rewarding to see the joy that it brings people. When the dogs go home, they don't feel as cooped up."
Eventually, Oberhelman would like to start a state certified instructor training school for aspiring dog trainers on the property. Both of his children, Jenny, 13, and Josh, 15, have become interested in training dogs as well.
Before he began working with dogs, Oberhelman spent his youth competing in the flat track AMA motorcycle circuit.
"I throughly enjoyed myself in racing," Oberhelman said. "You have to have a level of concentration because of the speeds involved."
While Oberhelman has been retired from the racing circuit, he enjoys watching NASCAR, jetskiing and boating.
More like this story