Students take a step back in time
A group of De Soto students went back in time to see a new dinosaur exhibit Friday during a field trip to the University of Kansas Natural History Museum.
The trip was sponsored by the De Soto Community Team, a collaborative effort of the city, school district, Johnson County Sheriff's Department and the De Soto Multi-Service Center.
Vernon Brown, De Soto community officer, helped organize the trip to the museum. Brown wanted De Soto to have a program similar to one he enjoyed while growing up in Kansas City, Kan.
"We do some things for the community, put on summer fun programs and field trips for the kids," Brown said. " It gives the kids the opportunity to interact with the community leaders and gives kids in a small community something to do."
Several of the students enjoyed the field trip to the Natural History museum because of the variety of exhibits.
"It was really cool," fourth-grader Brenden Lahr said. "I liked the snakes and the bees. I really liked the panorama."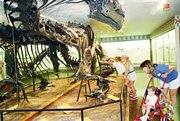 Brandan Philbrook, another fourth-grader, said the trip brought him closer to several of the animals that he enjoys studying.
"My favorite part was that I got to see almost all of my favorite animals and the new dinosaur exhibit," Philbrook said.
The University of Kansas Natural History Museum is located Jayhawk Boulevard. It features four floors of birds, mammals, plants, reptiles, fishes and many other exhibits.
The De Soto Community Team will visit the Titanic exhibit at Science City on July 27 for its second field trip of the summer.
Trips outside of De Soto are beneficial to the children, according to Brown.
"They get to expand their lives a little bit with something educational like this," Brown said.
More like this story