Kill Creek Park nearing completion
Monte Fiegel knows Kill Creek Regional Park won't be as peaceful this time next year.
"At least I won't be listening to the back-up alarms of bull dozers all day," he said.
Fiegel is the manager of the 840acre park four miles south of Kansas Highway 10 and just east of the Sunflower Army Ammunition Plant. When it opens this fall or next spring it will be the third regional park in the Johnson County Park District's system.
"I have seven different contractors working out here, right now," Fiegel said. "Everything is going real well, but the weather could throw everything out of kilter.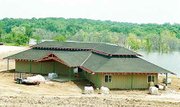 "If everything falls into place, we could still have a fall opening."
Progress on three big remaining projects over the next two months will determine the park's opening date, Fiegel said. Specifically, the park's lateral-fill system has to be built, perimeter fencing installed and trails, parking lots and the main access road paved, he said.
Other projects are nearing completion. Work on the marina and separate beach concessions are in the "punch-list" phase, and a visitors' center at Camp Timber Ridge is "85 percent" finished, Fiegel said.
Located near a pond built before the county acquired the property, the 80-acre Camp Timber Ridge will offer day-use camping and programs for youth groups.
Kill Creek Park's 28-acre main lake is full, Fiegel said. The lake will be open to swimmers, canoes, paddle boats and small sailboats next summer, but fishermen will have to wait, he said.
"It's stocked, but the fish will be too small for fishing when we open," he said.
Fiegel estimates fishing will begin in two years. Park district officials will have a better idea after Kansas Wildlife and Parks surveys the lengths of the lake's catfish, small- and large-mouth bass, walleye, bluegill and crappie next spring, he said.
Kill Creek Park will not be a multi-use facility like Shawnee Mission or Heritage parks, Fiegel said.
The park district's goal was to keep the natural ruggedness of the park intact.
Area nature lovers will be able to enjoy the park's mixed prairie and woodland environment via 1.5 miles of paved trails most of which bends along Kill Creek and unimproved trails that take off over the park's hills. Horseback trails will also be available.
The trails will extend north to 127th Street, Fiegel said.
The park district is working with the city of De Soto to eventually extend the trails to 95th Street.
The park district has spent the better part of the last decade returning the Kill Creek's acreage to its natural environment.
Brush has been cleared, and the old agricultural areas are being returned to grassland. The lowland acres are being seeded to native tall grasses, and the uplands planted with indigenous short grasses, Fiegel said.
More like this story