Reading program lets kids be kids
Jodi Phillips is sure young students at Starside Elementary are having more fun as they learn to read this year.
That is by design, the Starside reading specialist said. The DeSoto school district adopted a new reading program this year for its kindergarten through second grade students that includes animated literacy.
Phillips explained animated literacy is a multi-sensory way to teach phonics. Less technically, she said the method teaches youngsters to read by letting kids be kids.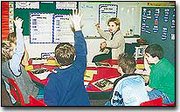 The students read books featuring alliterate animals or characters such as Polly Panda. As they read, the students sing songs and act out stories that repeat a single letter sound, Phillips said. For example, students sing about shaving a shark and shining shoes when reading books emphasizing the sh sound. While the students sing, they will act out shaving and buffing their footwear.
The repetitions and the combined associations of the stories, songs and movements all enhance learning, Phillips said.
"It's controlled craziness," she said. "The kids love it."
Starside Principal Paula Hill said the other major component of the district's new reading program is guided learning. That program breaks classrooms into groups of about seven students who read at similar levels. Each group reads materials appropriate for its skill level.
"It provides materials that fit the needs of the students," said reading specialist Suzanne Lang. "It's not like the old base readers that everyone in the classroom read."
Unlike past group-reading programs, Hill said guided learning doesn't place students in groups for extended periods.
"It's geared to be very individualistic and very flexible," the principal said. "As a child's reading level progresses, the student moves on to another group."
Starside second-grade teachers Mindi Bret, Tracy Ray and John Yocum said guided learning gives them more time to spend with individual students. As their small groups read the stories out loud, the teachers said they can focus in on how well individual students are doing.
But they admit it requires them to think differently.
"At first, when I was at a table with a group, I wondered what was the rest of the classroom doing," Bret said.
The district adopted the new reading program after the methods were tested in kindergartens, special education classes, and English as a second language and reading specialists settings last year.
"They worked so well, it was decided to open it up to the whole district," Hill said. The district has extended guided learning into the third and fourth grades. Both animated literacy and guided learning are offered "across the board," meaning the are used by classroom teachers, reading specialists, English as a second language instructors and special education classes. That required a commitment from staffers required to attend in-service classes to get up to speed on the methods, Hill said.
"I had 100 percent participation. I think that speaks highly of the staff," she said. "Most chose to attend in-services in the summer, so I didn't have to hire a lot of substitutes."
Reading initiatives at Starside don't end with the district's new program. Hill and the teachers said they realize students become better readers by reading. And, they said the best way to encourage reading is to make more books available to the students at home.
The school, its site council and PTA has joined in a number of programs designed to encourage reading, Hill said. The principal said she awards a book to each student of the month, and the PTA gave every student a book at Christmas.
At the request of the site council, Hill has challenged her students to read a million minutes this year. If they do, Hill has agreed to spend a day on the school's roof in May.
Hill said she might also spend some time on the roof for the school's reading night Tuesday, Jan. 30. If not, there will be plenty of other happenings at the event to encourage students to read.
Among other activities, the evening will include a book swap that allows students to trade their well-read books, storytellers, a visit by an author and teachers dressed as literary characters.
For a variety of reasons, Starside has historically had a difficult time meeting state reading standards, Hill said. However, when the state released scores from an assessment test the school's fifth-graders took last year, they exceeded the state average by 3.8 points.
The improvement was the result of a lot of work, Hill said, but she added the grade "was always good readers."
The new program will provide for continued reading improvements at the school, Hill said. Last year, when the programs were available in special setting but not in the classrooms, the percentage of Starside second-graders failing to read at grade level on state-required tests dropped by 75 percent at the beginning of the year to 20 percent at the year's end. The final number included special needs students, Hill said.
"Our real challenge and proof of progress will come over the next two years," she said. "If we remain consistent with our approach, I think we will continue to see high test scores."