Dennis Moore offers civics lesson
Dennis Moore wishes George W. Bush well but said the new president will have to seek moderate consensus on two early initiatives if his administration is to be successful.
The congressman made his comments during a Monday visit to Mill Valley High School. During a question and answer session before a senior political science class, the Lenexa Democrat said Saturday's inauguration was a victory for American democracy.
"I received 700 e-mails and letters in the weeks after the election asking why I didn't tell Al Gore to concede," he said. "I didn't do that because I didn't really think that was my place or that he would listen, but I answered every letter.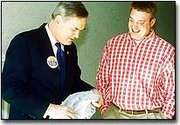 "I wrote that what it comes down to in the end is that you are going to see a peaceful transfer of power on Jan. 20. That is something that should make us all excited and thankful."
Moore won re-election to the Kansas 2nd District Congressional seat while expressing opposition to Bush's 10-year, $1.6 trillion tax cut proposal and education plan that calls for school vouchers. He wasn't alone, and the congressman suggested the president would have to compromise if he wanted to make progress on the two initiatives in an equally divided Senate and a House in which the GOP holds a slim majority.
"I hope he (Bush) does move to the center," he said. "He won the election, but I don't know if there's support in Congress (for his proposals). We'll discuss them over the next few weeks and see what consensus we can come to."
Moore told the students he supports an $800 million tax-cut package that includes the end of the marriage penalty and the elimination the estate tax. Bush's tax cut proposal leaves too little money for the country's needs, including a military pay increase the new administration wants, he said.
"Bush has said that its your money and ought to be returned to taxpayers," he said. "That's true, but I think we ought to use some of it to invest in education, national defense, further secure Social Security and Medicare and for paying off the national debt."
Money used to pay down the debt will pay dividends to all citizens, Moore said, by lowering interest rates on loans for homes, education and business startups and expansions.
As for Bush's education plan, Moore said he was concerned about a proposal that would allow parents to use the amount of federal money used to educate their children for private school enrollment or tutoring. The option would be limited to students enrolled in low-performing schools.
"I'll just say I have some real concerns about that," Moore said. "If you take away limited resources, you just make it that much harder for them to succeed."
Any voucher program would have to pass constitutional tests, Moore said. Still, the congressman said he wouldn't reject Bush's education plan before he studied the details.
"I'll just have to look at the package when it's presented," he said. "When people talk about vouchers now, they can be talking about charter schools. The language is really getting fuzzy."
The congressman said he wrote a letter to Bush, encouraging him to support full special education funding. Should the federal government fund the special education programs it mandated more than two decades ago, it would free up money local districts now spend for special education needs on other programs, he said.
Moore quizzed the students on their views of the recent election and its consequences on the Electoral College. Democrat Al Gore received 500,000 more votes nationwide than Bush but lost the election when a U.S. Supreme Court decision to stop further recounts in Florida assured Bush's victory in the Electoral College.
Students opposed to the Electoral College said it was needed in the early days of the republic when getting exact votes counts was a hard and time-consuming task, but that it had outlived its usefulness. Other students said it decreased the incentive to vote in states like Kansas that are dominated by one party.
The congressman agreed, but pointed out the weeks after the election would have been much more chaotic if the election was still being contested in 50 states and not just Florida.
The questions the students raised will be voiced in Congress in the coming month, Moore said.
"I have some grave concerns about the electoral system," he said. "My first response was 'let's to away with it.' I've cooled down somewhat after listening to what others have to say.
"I'd like to have a discussion and debate about this in Congress, and I'd like to hear what you have to say about it."