Mill Valley lets one get away
Leading 36-25 with 4:21 to play in the third quarter, Mill Valley head coach Justin Bogart told his squad it had Tonganoxie on the ropes.
Little did Bogart know that the host Chieftains would counter-attack with a flurry of field goals to shock Mill Valley last Thursday, beating them 54-41.
Dazed, but not diminshed, Tonganoxie proceeded to go on a 15-0 run in the second half to take the lead and surprise the Jaguars, who suffered their second straight defeat.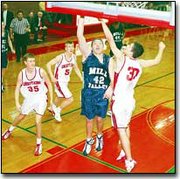 Travis Chavez led the way for Mill Valley with 23 points, using his 6-1 frame inside against a taller Chieftain lineup. Chavez helped the Jaguars jump out to a six-point first quarter lead with eight points.
Mill Valley was able to increase the lead to 10 right before halftime when Jason Andrews and Dominique Burgin scored back-to-back baskets on steals.
One of the glaring differences between halves was the loss of junior point guard Cody Ptacek, who sat out the second half after suffering a groin pull. The injury was originally sustained two nights before.
"I told the guys at halftime that everyone had to give a little more and for some reason, I think everyone decided that they were going to do it themselves and not as a team," the coach said. "Without Cody, we couldn't get the ball in the corner, we couldn't get it inside, we couldn't score. Tonganoxie did a nice job defensively."
In the third quarter, Chavez scored three field goals and Burgin drilled a three-pointer to give the Jaguars their biggest margin of 11. The Chieftains pulled within one right before the end of the third quarter.
A switch to a zone defense didn't stop Tonganoxie's momentum, as the Chieftains went on a 15-0 spurt with 5:54 remaining.
"Tonganoxie never missed a beat," Bogart said of the switch to a zone. "I think by that time, they were ready to take an advantage of the opportunities that we gave them and they did."
Chavez accounted for all five Mill Valley points in the fourth quarter and single-handedly pulled the Jaguars within four with 2:45 to play. The senior forward was fed underneath from Burgin for a basket, but the Jaguars were never heard from again.