Lady Wildcats lose battle with Basehor-Linwood
Basehor-Linwood girls celebrated their winter homecoming on Thursday, but on the other side of the coaching box, DeSoto head coach Dwight Spencer was trying to damper the party against familiar faces.
Spencer, who previously was the Basehor-Linwood girls' junior varsity coach, and the Lady Wildcats fell to the host Bobcats 50-45 in what seemed to be a ruined Thursday homecoming for Spencer.
"The girls and I were so close and they're just such a great group of kids," Spencer said. "I still have a lot of real strong ties and a lot of feelings for them. It was definitely different."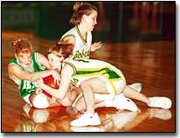 DeSoto took a 17-13 first quarter edge, but the lead exchanged hands throughout the second quarter.
Leading the charge for the Lady Wildcats was senior Tiffany Bernard, who finished with 14 points. But Bernard committed her fourth foul with about four minutes to go in the third quarter, which allowed Basehor-Linwood to take control.
"That gave us the momentum," said Basehor-Linwood head coach Mardy Robinson. "When Tiffany fouled out for them, that was tough on DeSoto. She's a great player and we were in her face all night and she still knocked down the shots."
"Our kids even when she came out toward the end kept battling," said Spencer. "Allie Hienen did a great job to keep us in the game."
Basehor-Linwood was led by Jackie Horn's 27 points, including 21 in the first-half.
DeSoto was able to pull within one, 44-43, with just over two minutes left in the game, but Basehor-Linwood hit key foul shots down the stretch to maintain the advantage.