Bobcat offense too much for winless Wildcats
Only a slow start by Basehor-Linwood in the first quarter kept the visiting DeSoto boys in the game on Thursday.
With no answer for the Bobcats' versatile inside-outside game, the Wildcats fell into a slide, resulting in a 62-32 loss.
The Wildcats trailed by only four points after the first quarter, scoring nine points themselves and holding the Bobcats to 13.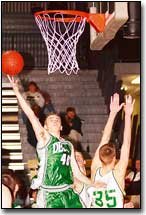 Basehor-Linwood's offense came alive in the second quarter. The Bobcats put the Wildcats in a hole, putting up 16 points to DeSoto's five.
Tad Twidwell's three-pointer at the 6:52 mark of the second quarter pulled DeSoto within three, but the Bobcats marched on a 14-2 run before halftime.
The Bobcats took a 29-14 lead into the locker room.
The third quarter was a mirror image of the second, with DeSoto again managing only five points and making good on only one field goal.
The Bobcats put up 15 in the quarter, increasing their lead to 25 points.
DeSoto's offense came alive a bit in the fourth quarter, scoring 13 points. However, Basehor-Linwood's potent offense stepped up as well, scoring 18 fourth-quarter points.
Twidwell and Matt Holton led DeSoto with nine points each.
The loss extends DeSoto's losing streak, putting the Wildcats at 0-6 for the year.