Wolf easing into to new role as commissioner
Susie Wolf says she has a newfound appreciation for the expertise of county staff and the complexity of county government.
Wolf took the oath of office for the 2nd District Johnson County Commission seat Monday. She earned the seat, which represents DeSoto, when she defeated 20-year 2nd District incumbent Johnna Lingle in last August's GOP primary.
"One of the keys to success is to surround yourself with good people," she said. "As I get to know staff, I'm finding I'm surrounded with capable, experienced people."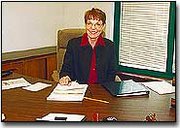 Other than the state, Johnson County government is the second largest in Kansas. Wolf said it was a bit of an eye-opener to realize just what that involves.
"It's bigger than I really imagined, but it's manageable and very workable," she said. "I'm still glad I ran and won.
"My impression is there is an awful lot of good stuff going on around here. I'm willing to listen and willing to learn. And I'm willing to put things together with the help of staff and my fellow commissioners."
This week's county commission changes aren't limited to Wolf's seating. Thursday, Doug Wood will accept the gavel from Annabeth Surbaugh and start his one-year rotation as commission chairman.
His goal this year is not to start one new county program, Wood said. But, he added this will be the decision year for a number of growth-management issued the commission has been studying for the past few years.
Those include adoption of the county's strategic plan, completion of a facilities study, naming an infrastructure advisory committee and the further refinement of the Comprehensive Arterial Road Network Program, including that part of the program that recommends future improvements near Sunflower and DeSoto. The county commission will also consider requirements of dry sewers for development and some form of excise tax on subdivided land, he said.
An issue sure to come back before the commission is Oz Entertainment Co.'s redevelopment plan for the Sunflower Army Ammunition Plant.
In November, the county commission deadlocked 2-2 over Oz's $861 million redevelopment plan. Oz promised to bring the issue back to commission this year when Wolf replaced Oz-opponent Lingle.
While she didn't reveal her position, Wolf did say she is making every effort to become familiar with the issue.
"I am working on that issue, and I've been talking with the Oz people," she said. "That is really a more complicated issue than I thought."
Wolf refused to estimate how long it would take her to become informed enough to vote on any Oz proposal. That would depend on its details and her work load from other issues before the commission, she said.
Wood said the commission would give Wolf the time she needs. He speculated that could be as little as two months should Oz basically resubmit its last proposal.
The incoming commission chairman doesn't foresee a protracted process involving numerous public hearings this time around.
"If she requires a work session, we're probably obligated to have a public hearing," Wood said.
Despite three years of publicity, Oz needs to clarify a number of points with the public, Wood said.
"They need to make it clear that other than the K-10 flyover (interchange), there are no public tax dollars involved and that the tax dollars going to support the project are raised from the project itself," he said. "Secondly, they need to make clear the benefits of the project going ahead and the downside or consequences of its not going through."
Some have speculated Lingle will run for the commission again in four years when the body expands from five to six districts and adds an elected chair. Lingle didn't rule out the possibility last week, but said her attention now is on her new job with the Gardner National Bank.
"I honestly don't know," she said. "I'll just have to wait and see what I'm thinking when the time comes."