Mill Valley girls remain winless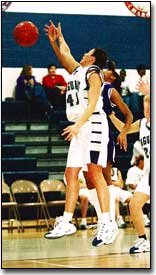 The Mill Valley varsity girls lost 45-25 to visiting Basehor-Linwood on Tuesday, leaving the Jaguars still winless on the season.
The Lady Jaguars kept within distance in the first quarter, trailing only by three. But in the second quarter, the Bobcats had moved the margin to a 10-point lead, as the Jaguars managed only three points. Mill Valley only made four trips to the line, going 2-for-4, while Basehor-Linwood was 5-of-11, which created the difference in the first half.
In the third quarter, Basehor-Linwood looked to their inside game, grabbing eight points in the paint while converting from 4-of-5 from the charity stripe. The Bobcats' post offense allowed them to stretch the lead to 32-15.
Jaguar senior Andrea Crall led the team with seven points. Jackie Horn led Basehor-Linwood with 14 points.
Mill Valley (0-5) will travel to Tonganoxie on Friday. The Lady Jaguars will then face St. Joseph Benton in the opening round of the Basehor-Linwood Bobcat Invitational on Monday at 3 p.m.