Bittersweet goodbye
Sheriff Fred Allenbrand retires after more than three decades of service
Fred Allenbrand said last Friday was a tough day.
"I made a lot of difficult decisions in my years here," he said. "But the most difficult one for me is leaving this office."
The feelings are understandable. After 34 years as Johnson County Sheriff and 45 with the department, Allenbrand was preparing to retire. The department is family, he said, as his personal history proves.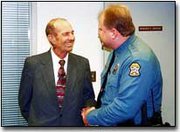 "I met my wife, Romona, here. She's the best thing I ever got from this department," he said.
His difficulty with leaving office isn't a sign of any misgivings over the department's immediate future, Allenbrand said. He is being succeeded by his longtime top assistant, John Foster, who was sworn in as sheriff Monday. The department has an excellent staff and dedicated deputies, all of whom contribute to the county's enviable crime rate, Allenbrand said.
But, the retiring sheriff warned that county residents shouldn't become complacent.
"We're fortunate here in Johnson County to have great parks, schools and commercial districts," he said. "None of those would have any value if it wasn't safe to use them.
"The primary responsibility of government on every level is public safety. Sometimes, politicians lose sight of that when the crime rate seems to be low."
First elected sheriff in 1966, Allenbrand has transformed the department from a rural to a metropolitan law-enforcement agency. His duties as a volunteer reserve officer in 1956 before becoming a full-time deputy in January 1958 reflect how much the department has changed.
"As a deputy, we had only two districts," he said. "There were only two police cars out there. I patrolled from Eudora to the state line.
"When I became sheriff, we had fewer than 50 people on staff. Fifteen to 20 deputies took care of practically the entire county. If I had all the positions filled today, we'd have a staff of 500. That pretty much reflects the growth of the county."
Allenbrand knew the northern Johnson County he patrolled in his early years. The oldest of 13 children, he was raised near the present junction of Kansas highways 7 and 10.
"We used to say my parents raised cattle, sheep and kids," he said. "My older brothers and sisters and I went to Olathe to high school. My younger brothers and sisters went to DeSoto."
Patrol is the most visible of the department's functions. But Allenbrand said other responsibilities take up about 70 percent of the department's manhours. Among its other duties, the sheriff's department serves papers for the district court in criminal and civil cases, operates the only jails in the county and assists municipal law enforcement agencies with its investigative arm and crime lab, Allenbrand said.
"It goes back to my philosophy that the sheriff is elected by all the people," he said. "You have to serve everybody in the county, not just those in the unincorporated area. To do that, you have to work with all the departments.
"When you think about small cities, they don't have the resources for a crime lab and investigative arm. But the criminals who are preying on the people of Lenexa and Overland Park are the same ones who are preying on the people of the smaller cities."
Not all the changes within his department where a response to growth. For example, the department added drug teams. Recently, computer crime teams were added to adapt to social and technological changes.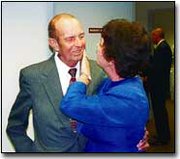 "Drugs were a challenge because we didn't have any experience or education," he said. "It doesn't take much time to train someone how to write a traffic ticket, but to have someone work a drug crime or computer crime takes a lot of training."
The county is not an island and is, therefore, not immune to the increase in violent crime, Allenbrand said.
"The violent crime rate changed only in that we have a lot of inner-city criminals coming out here," he said. "We didn't see that in the early days. A lot of that probably has to do with our transportation system and highways.
"It used to be rare in a homicide case if the perpetrator and victim didn't know each other. Now, we get those nonsense drive-by shootings."
As he looks ahead, Allenbrand predicts the department's biggest challenge will come from politicians not criminals.
Last fall, county voters approved changes suggested by the Johnson County Charter Commission that made the county clerk, treasurer and register of deeds offices appointed positions responsible to the county manager. The move leaves the district attorney and sheriff as the only two elected department heads in the county. Allenbrand predicts a future charter commission will suggest the sheriff be appointed.
"They've got this attitude an appointed position is more bureaucratically responsible than elected offices," he said. "I strongly disagree.
"I knew, and John Foster knows, he works for the people. I didn't have to ask some commissioner or manager if I could enforce some law. I did what I thought was right."
The charter commission wasn't above tampering with the sheriff's department's operations. The first draft recommendations suggested the responsibility for county jails be taken from the sheriff and placed with county corrections. The suggestion was dropped after his department "educated" charter members and county commissioners about the differences between detention and corrections, Allenbrand said.
Jail inmates are there temporarily after their arrest or are sentenced there by judges, Allenbrand said. Inmates are placed with corrections after judges find they would benefit from the rehabilitation programs it offers and were sufficiently non-violent, he said.
"Detention is a specialized police function," Allenbrand said. "Most of our inmates aren't in jail long enough for us to rehabilitate them."
People can be rehabilitated, Allenbrand said, and he supports continued funding of the county's "excellent" corrections programs if the focus in on the right individuals.
"Spend the money on the young people where it will do some good. Don't waste it on hardened cons," he said.
Some criminals don't deserve a second chance, Allenbrand said. His biggest disappointment is witnessing the release of convicted killers.
"Henry Floyd Brown received 150 years when he was convicted of killing Highway Patrolman Eldon Miller," Allenbrand said. "They said he would spend the rest of his life in prison. Well, here it is 30 years later, and he's back on the street.
"There's no such thing as a life sentence. People who say otherwise are just kidding themselves."
In retirement, he will remain an advocate for the death penalty and other causes close to his heart, Allenbrand said. On the top of that list will be his old department.
"This place is like a second home to us, and our home was a second sheriff's office," he said. "I think I took as many calls at home as I did here.
"I'm very fortunate people provided me with a career by electing me year after year."