Wildcats take regional softball title
From June 1, 2000
It took 11 innings, but DeSoto High punched its ticket to next weekend's Kansas Class 5A softball tournament in Salina with a 1-0 victory over Shawnee Heights Tuesday.
Earlier in the evening, the Wildcats advanced to the sub-state regional championship game with a 7-2 victory over Topeka-Highland Park.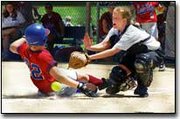 "It feels great to win," said junior pitcher Ashley Perkins. "Now I just want to win state."
The seedings for the state tourney will be announced Saturday. The Wildcats are 19-1 and should be ranked in the top half of the bracket not that that matters much at this point, coach Randy Keith said.
"We know we're going to see some competition there," he said. "Every team that we play will also have only lost one game."
DeSoto's first game will be Friday. A victory would move them into Saturday's second round. If the Wildcats win, they will play in the championship game Saturday afternoon.
If the Wildcats lose the Saturday-morning semifinal game, they will play a consulation game for third place.
Perkins was a freshman when DeSoto won its last softball state title. As a sophomore, Perkins and her teammates finished third. This year, she wants to get back to the top. On Tuesday, she hurled 18 innings to get DeSoto back among the state's elite eight teams.
"Sure, my arm was a little sore," Perkins said. "But, I knew we needed to stop them so I just stayed right there in the game."
She had help.
The defensive effort kept the game scoreless. Perkins forced 16 popups, struck out two and received a boost from Brooke Woolery, who made a big catch in the top of the 11th inning.
DeSoto finally pushed a run across homeplate in the bottom of the 11th inning when catcher Amy Siler hit a lead-off single.
A bunt single by Woolery followed. Jenny Freeman then hit a short fly ball that fell for a hit and drove in the game's only run.
"Before that at-bat, I had struck out twice," Freeman said. "I was scared when I saw that ball pop up in the air. When it dropped, I was so excited.
"I think everybody came in thinking we were gonna win since we usually do. I think it is better that it was a close game. Now we know we really have to play hard and not have too big of heads next week."
DeSoto had several chances to score in the early innings, but came up empty each time.
In the 7th inning, with the bases loaded, Chris Richardson flied out and the T-Birds converted the double play when Freeman was nailed at the plate.
Shawnee Heights almost broke the deadlock in the eighth inning, but Perkins wiggled out of the jam.