Youth foundation works to keep money in DeSoto
A DeSoto nonprofit organization is trying to raise its profile in the hopes of helping local community youth organizations.
Diane Cochran said the Community Youth Foundation of DeSoto recently celebrated its first anniversary.
"What we were hoping when we sat this up was that we would get funds that normally were donated to organizations like United Way," she said. "It is a way to make those donations stay here in the community."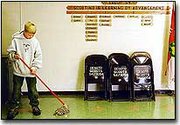 The foundation is a 501 (c)3 not-for-profit organization, said Cochran, who serves as the foundation's secretary/treasurer. It allows donors to write off contributions to the Boy Scouts and other non-church related youth organizations within the boundaries of the DeSoto school district.
"We are just the middle man," she said. "All donations to the foundation are fully tax deductible."
Donors can specify where they want contributions to go or allow the foundation's board to distribute the money to various youth organizations asking for funds, she said.
The foundation has an all-volunteer staff and has no administrative cost, Cochran said. It does ask donors to pay a $1 annual fee to pay postage for the tax contribution verification notice, she said.
The foundation received a $1,000 grant from Sealright Corp. and is seeking other grants, Cochran said.
Donors can make in-kind contributions, she said.
"They (donations) don't have to be money," she said. "We had someone donate two sailboats to the Boy Scouts last year. It could also be materials used to upgrade the ball fields or refurbish the Scout House."
With in-kind contributions, the tax exemptions equal the appraised values of the donations, Cochran said.
The foundation is now soliciting funds to pay the natural gas bill at the DeSoto Scout House, which is facing a possible cut off of utilities if money isn't raised. The house is used by Boy Scout Troop 54, Cub Scout Pack 3054 and the DeSoto Youth Baseball Association.
Anyone interested in donating to the youth foundation can call Cochran at 583-1113 or 585-3255.