What is the most positive thing about DeSoto and how would you suggest we maintain or build on it?
Our small-town atmosphere. By retaining and revitalizing downtown, we can encourage people to patronize the businesses and stay in our downtown area. The city needs to assist in the repair and replacement of sidewalks. Having traveled to Woodstock, N.Y., and Carmel, Calif., I know what well-kept downtown can do for a city.
What is your position on tax abatements for new businesses?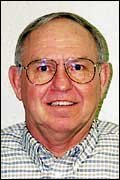 Tax abatements are necessary in today's business world.
We need to balance each request so that we are receiving more tax dollars than we are giving away.
We have to ensure the county, state and school district also receive more than is abated.
Under almost all situations, we should give a maximum abatement of 50 percent, declining 5 percent for 10 years.
How aggressive should the city be toward annexations?
DeSoto should be moderately aggressive in annexations. We need to pursue annexations that build our light industrial and commercial base.
We also need to ensure no city, such as Olathe, cuts off our growth.
What are DeSoto's most critical infrastructure needs?
Our drinking water needs upgrading. We have discoloration and orders that need to be addressed.
Without immediate action, we are in great danger of running short of water within the next two years. With another hot, dry summer, we may run short this summer. The city can either build a new plant or revitalize the Sunflower plant. Both options are expensive.
The only way to pay for either option is with a bond issue. This will add millions to the city's debt load, but I cannot see any other way.
I feel the Sunflower plant is the best option because it would provide excess water for the city's growth and to sell to other cities or rural water districts. This is the more expensive option.
We need a well-documented plan stating which roads will be improved this year and each year until 2010.
The plan needs to be updated annually so we will always have a 10-year plan in effect.