Wildcats lose but show improvement
The DeSoto High School Wildcats have been steadily improving throughout Kaw Valley League play. However, the Wildcats lost 79-39 to Piper High School, one of the league's best teams Tuesday night.
Coach Jason Generally said the team's slow first quarter, which left the team with a 19-2 deficit, proved to be a main factor in the final score.
"I think we didn't come out very aggressive," Generally said. "We missed a lot of easy shots and never recovered."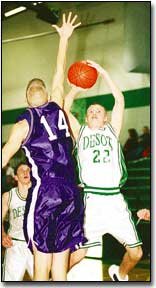 After trailing 34-13 at halftime, DeSoto received some offensive firepower from sophomore Greg Francis (6 points) and senior Chris Dexter (12 points).
Generally praised the efforts of his lone senior, Dexter.
"Chris Dexter is everything a senior should be," Generally said. "He comes to play every night."
Piper caused the Wildcats to turn the ball over several times by overloading one side of the court. The strategy created easy baskets for the Pirates.
Generally said the Pirates and their star player, junior Lorenzo Lasley, who had a game-high 27 points, showed why the team is leading the Kaw Valley League.
"Piper is a very good team and they taught us a lesson tonight," Generally said. "Lasley is an exceptional player who has size and can jump very well."
As the schedule winds down, the Wildcats will have to compete on the road against Perry-Lecompton Thursday. They take on Lansing Friday night.
"We have to take games from teams because no one will give you anything in this league," Generally said. "The kids will be ready to play against Perry-Lecompton and Lansing."
More like this story