Molding a bright future
DeSoto student wins regional art competition with first sculpture
Rachel Landers gave a somewhat elusive answer to the meaning of her glazed earthenware statue of a shackled slave.
"It could have meaning behind the value of a slave wearing really shining shackles, or the value of workers today in industrial society," Landers allowed. But, to her, the statue's value is its pose.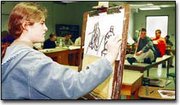 The work captures a moment of energy and movement as a shackled man struggles to stand and strains to his hand from bindings. A defiant attitude is made more poignant by the sadness on the slave's face.
The DeSoto High sophomore's statue won first place in a regional high school art contest. It will now be sent to New York to compete for further honors.
The impressive achievement was Landers' first attempt at the medium.
"I pretty much did the piece as a class assignment," Landers said. "I went a step further and added more detail.
"It's the first figure study I've done in clay. I'm learning where the body parts go."
The piece was awarded first place in the sculpture category in the Western Missouri Regional Scholastic Art Competition. Despite the contest's title, it was open to high school students attending schools in 56 eastern Missouri and western Kansas counties.
DeSoto High art teacher, Tim Mispagel, said judges viewed slides of 3,574 works in photography, ceramics, drawing and 12 other categories before selecting 512 pieces for a show in the Kansas University Art and Design Gallery that ended Thursday.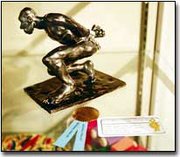 At the show, Landers' statue was awarded a gold key and was one of 75 works presented with a national finalist award ribbon.
The piece will now be sent to New York to vie against 70 other regional winners in the sculpture category.
The winners will be part of the National High School Art Exhibit later this year in Washington D.C.'s Corcoran Gallery.
Mispagel said the statue's creativity and craftsmanship reveal his young student has already attained a surprising level of artistic maturity.
"I always know when Rachel starts a project that she is going to finish it," he said. "There are a lot students with ability, but who have very little maturity or patience.
"Execution is everything. I talk to the students a lot about aesthetics, presenting things in an appealing, well-crafted manner."
Landers credits her mother, Kathy Landers, with sparking her interest in art and attention to craftsmanship. The Landers moved to their home south of DeSoto last year, in part, so they would have land to raise the goats, llama and alpacas her mother uses in textile and fabric pieces.
Because of her mother's influence, Landers said she filled sketchpads with drawings and worked with Indian beads.
For all her talent and dedication to art, Landers said she is not ready to commit to a career in art.
"I'm only a sophomore," she said. "I have two more years of high school and two years of college before I have to decide on a major."
More like this story