Personal: The 49-year-old Guntert and her husband, Kurt, have two children.
Education: DeSoto High School, bachelor's of science in education from K-State.
Professional background: Presently in retail sales. Past experience in education and social services.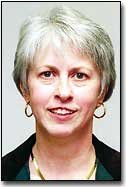 Political and civic experience: Chairman of the DeSoto Parks Board, 1986; member of the DeSoto Planning Commission, 1987; member of the DeSoto City Council, 1989-1993. Past chairman of DeSoto Days and member of the Watermelon Days committee. Active in the DeSoto High Booster Club and Site Council.
What is the most positive thing about DeSoto and how would you suggest we maintain or build on it?
Citizens are our greatest asset. They should be well informed, involved and served to the best of our ability.
What does DeSoto need to change?
Cooperation. We're all in this together. We need to strive for mutual ground and move DeSoto forward.
What is your position on tax abatements for new businesses?
They are presently a necessary evil of business. A 50-percent tax abatement is presently what the city has. It is adequate but should be reviewed every two years. This should be the baseline for all new businesses. If the city wants to ask for any extra concessions from the company, or if the new company wants to provide any extra concessions for a higher percentage of abatement this all needs to be standardized and be addressed in the pilot agreement. I was on the committee that wrote DeSoto's first tax abatement.
How aggressive should the city be toward annexations?
DeSoto should annex only when they have provided adequate services for what lies within its present city limits. Only then will the county look upon us as capable of taking on more responsibility.
What are DeSoto's most critical infrastructure needs and what plan do you have for infrastructure improvements?
Water Water and sewer go hand-in-hand. We have an old plant. We are looking at possibly receiving the Sunflower water treatment plant, another old plant. The Kansas Water Association is doing a regional study of water in our area. We should be involved. The future of water is very similar to that of sewer plants, they will be regional co-ops. We just don't have the tax dollars or resources to have our own. DeSoto will be able to bring a lot of positive assets to a co-op. We have access to the Kaw River, we have wells and have started running new lines.
Sewers Our sewer plant is presently at 50 to 60 percent of its capacity because most of our new housing subdivisions are on septic. What industry we presently have hasn't burdened us yet. All future improvements should be geared toward prolonging the life of our present facility while we enter into studies and negotiations with Johnson County Wastewater.
We should work towards a co-op with the next regional wastewater facility that will be built at the Cedar Creek/Kill Creek watershed. County studies are already in the process on this issue. We must be at the table during the formulating of this next facility. A sewer plant the size DeSoto is projected to need is no longer affordable for cities to individually own or maintain.
City staff needs to continue to study new information on dry sewer innovations. We will have to start requiring these of builders and homeowners in the future. I feel if we are going to require this of them, we should have them do the most cost-effective method.
Improve infrastructure These decisions should be based on data and accountability.
Streets Continue with matching fund programs if available and budget funds to make improvements that should be on a citywide improvement plan. General maintenance should be on a yearly maintenance schedule.
What commercial businesses is DeSoto lacking that it should attempt to recruit?
One that generates a healthy sales tax, doesn't use much water, pays a livable wage and employs a broad age range of our citizens.
Are there any professional positions the city needs to add?
A staff position could be added to inspections. Either someone to help with new housing and remodel inspection or someone to inspect commercial and industrial.
How do you see the mayor's role as DeSoto's ambassador?
As ambassador from the city of DeSoto my role will be to represent our citizens' positive vision and values.