Personal: The 54-year-old Neeland and his wife, Dr. Vicki Selzer, have three children.
Education: DeSoto High School. Four-year apprenticeship with the International Brotherhood of Electrical Workers.
Professional background: Senior foreman with Capital Electric. Served as a combat air crew flight engineer during his 29-year Navy career.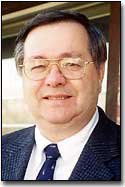 Political and civic experience: DeSoto City Council, 1997 to present and president of the council 1999 to present, chairman of the excise tax committee and fire detachment committee; co-chairman of Cinco de Mayo, 2000; member of the DeSoto Enhancement Committee, 1997 to present.
What is the most positive thing about DeSoto and how would you suggest we maintain or build on it?
Its small-town atmosphere. Community involvement: i.e. Watermelon festival, Train Days and Cinco de Mayo celebration.
from page 1
What does DeSoto need to change?
In order for DeSoto to have a positive image to residents and visitors, improvements in the physical appearance should be made. This includes renovating older structures and removing junk
What is your position on tax abatements for new businesses?
That's a relatively easy question. If we want well-rounded growth, tax abatements are a necessity. Nearly every city around us uses either tax abatements or industrial revenue bonds to attract industry. Communities are monetarily challenged if residential dwellings are the only structures for their tax base. Residential, which includes homes, apartments and condominiums, has an assessment percentage of 11.5. Commercial and industrial property is assessed at 25 percent. The assessed value is calculated by multiplying the appraised value by the assessment percentage.
One home appraised at $125,000, with several children, will cost the community many thousands of dollars a year for new schools and educational expenses. The same home will only generate about $1,000 in real estate taxes for DeSoto. The only way to counter this is to have commercial/industrial growth, which doesn't include the expense of education, and pays more than double the taxes per dollar of appraised value.
The current situation is that our surrounding communities are competitors in attracting these businesses.
Just as I don't think that every business should be limited to a 50 percent abatement. The percentage or abatement should be a reflection of the cost/benefit analysis.
How aggressive should the city be toward annexations?
We must continue to accept voluntary annexations. Involuntary annexation should only be used to provide continuity to our borders. DeSoto needs to be in position to annex the 9,065 acres of Sunflower Army Ammunition Plant. Much of this land is ready for commercial and industrial development, which is needed for our tax base.
. What are DeSoto's most critical infrastructure needs and what plan do you have for infrastructure improvements?
Water. Bonds should be issued for improvements and paid for by water user charges. With the acquisition of the Sunflower water plant we would have the quantities of water for our own needs as well as a surplus to sell to other communities.
Roads, sidewalks and street lighting will continue to be improved with the excise tax financing that was implemented three years ago. An occasional increase in the excise tax should be evaluated annually. Acquisition of the Sunflower Army Ammunition Plant water purification facility and water well rights in the river bottoms. Increase the capacity of the wastewater treatment facility. Old water and sewer lines need to be upgraded or replaced, and new lines added using bonds and benefit districts. As of the last council meeting, we have a full-time engineer that is very busy now planning for our future.
What commercial businesses is DeSoto lacking that it should attempt to recruit?
My personal opinion is that an assisted care facility would be of benefit. However, I would like to solicit the opinion of the community, as different people will have different needs.
Are there any professional positions the city needs to add?
Emergency Preparedness Director, probably a volunteer/minimal pay position with other responsibilities such as assistant fire chief.
How do you see the mayor's role as DeSoto's ambassador?
To continue to show a positive image of DeSoto to the press and the surrounding cities, county and state entities as well as the school district.