Personal: The 44-year-old Anderson and his wife, Sue, have four daughters.
Education: Bachelor's of science in math from Western Illinois University and bachelor's of science in civil engineering from the University of Illinois.
Professional background: Owner of the general construction and construction firm CPM Corp. of DeSoto.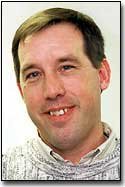 Political and civic experience: Member of the DeSoto Planning Commission since 1993 and chairman since 1998. Past president and elder of Redeemer Lutheran Church of Olathe.
What is the most positive thing about DeSoto and how would you suggest we maintain or build on it?
The most positive thing about DeSoto is the location of our town the rolling hills, Kill Creek and the river. As the city grows, it becomes harder and more important to protect and improve these things.
A strong set of planning and zoning documents, along with a strong planning commission and city council to guard these requirements is a must.
I would like to see our riverfront cleaned up and improved and the Kill Creek link to Johnson County Parks constructed.
What does DeSoto need to change?
The single most important thing to change in DeSoto is the perception of us by our neighbors. We need to reach out and establish good relations with our rural governments, our county and our neighboring cities. This means paying regular visits to their meetings, calling the leaders one on one and inviting them to our town.
What is your position on tax abatements for new businesses?
Tax abatements should be used to entice businesses to our city. I feel they should be used. I also feel that the current policy or city guideline for using them needs more refinement.
How aggressive should the city be toward annexations?
Annexations should not be aggressive. We should build upon what we have, build up our relationship with the county and rural districts and together map out a plan for the future.
What are DeSoto's most critical infrastructure needs and what plan do you have for infrastructure improvements?
Water is probably the most visible infrastructure need. Don't forget, sewer and roads are not far behind. First of all, a thorough water study is needed outlining our maintenance and capital improvement problems. After public discussion and a plan, then we can discuss how it should be funded.
I am in favor of a user fee approach. Large water users would have a different or stepped rate. Also, I think our tap fees, meter fees and access fees need to be studied. I think they could be raised.
My plan for infrastructure is as follows:
Begin with a staff report that studies the problems and identifies the need. Present to the public. Plan repairs, maintenance and budget. Plan for capital improvements and budget.
One problem with water and sewer is that we need to have a public debate about being in the water and sewer business.
What commercial businesses is DeSoto lacking that it should attempt to recruit?
The most important commercial business to attach to our community are those that provide good, stable, well-paying jobs. They are the businesses that have a history of stable employment and community involvement. They are companies that do not need every tax break known to man to survive.
Are there any professional positions the city needs to add?
I think we have a good and well-rounded staff at this time if we decide to get into the water business. We would probably need a full time professional water director.
How do you see the mayor's role as DeSoto's ambassador?
Our relationships with rural, county, schools, state and neighboring cities are poor. I would meet with every one of these entities within the first 90 days and maintain personal contact monthly with each representative.
More like this story