City, school officials looking forward to spring
DeSoto city and school officials are ready to think spring.
"I thing everybody's ready for it, but I am more than most," said DeSoto City Administrator Gerald Cooper. The city street crew logged overtime Friday morning to deal with glazes of ice and snow.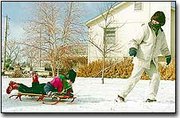 Clearing streets, repairing potholes and heating buildings have put a bite on the city's budget, Cooper said. The heating bill for the voluminous Community Center was made worse by ongoing construction on the new city offices and a broken boiler.
The high weather-related bills will require a balancing at of the general fund, Cooper said.
"You have to give up something somewhere else," he said.
DeSoto school district officials canceled school last Friday because of the icy roads. Jack Deyoe, district director of research, director and transportation, said the district has two remaining snow days before it has to adjust its schedule for lost time.
Should the district be forced to use more than those two days, time would be made up during a vacation day scheduled for Easter or added days after Memorial Day.
Cancellations due to icy conditions offer more of a challenge the district that snowfall, because wet roads can ice over within minutes, Deyoe said. He and other district officials started driving roads within the district at 4 a.m. last Friday before determining if it was not safe to have school.
Aware that natural gas prices where headed up, the district doubled its utility bill this year, Deyoe said. Even that foresight wasn't enough to cover the expense of gas prices that nearly tripled and extra consumption caused by the coldest December in 10 years, he said.
But, Deyoe said the district is in relatively good shape. Gas prices have dropped and are now at the district's predicted level of twice what they were last year. The district was also able to lock in gas prices for its schools east of Kansas Highway 7 that are served by Kansas Gas Service, Deyoe said. Unfortunately, Greeley Gas, which serves the district's west side, doesn't offer a futures option, he said.
More like this story