Production under way at Rehrig
The production of plastic pallets looks deceptively simple at DeSoto's newest manufacturing plant.
About once every 45 seconds within Rehrig Pacific Co.'s new $12 million plant in the K-10 Industrial Park, an overhead arm picks up a shiny plastic pallet from the interior of a production machine and delivers it to a laborer. There, it is stamped with the company's logo and stacked.
Nearby, another machine produces the bottom half of the pallet, which is snapped in place, completing the finished product.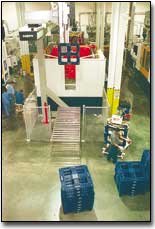 The arm and the laborer's tasks are the only animated actions visible to an observer. The real work takes place within the bowels of the plant's four computerized, $1.5 million pallet-producing machines, said plant manager Will Rehrig.
Within the machines, electricity heats pea-sized plastic pellets to 400 degrees. The liquid plastic is then injected into molds laced with waterlines, which quickly cool the pallets to about 100 degrees. The mold separates as the arm comes down to pluck another pallet from the machine.
The plant has been operating since Jan. 5, and Rehrig said "we still have a few things to do."
Last week, the biggest priority was to get all of the plant's machines operational. When the last of its four machines is online, the plant will produce as many as 3,000 pallets a day, Rehrig said.
The pallets produced in DeSoto will be shipped nationwide. Those made last Thursday will be sent to the West Coast where they will be used to ship Pepsi products, Rehrig said.
"We looked at Kansas being in the middle of the country. We couldn't get very far from anywhere," he said. "After we decided on the Kansas City area, we started looking around. We settled on DeSoto because we were looking for a site with rail service."
"We bring in two or three rail cars a week," he said. "We try to coordinate our traffic with Sealright's."
Rehrig Pacific intends to be good neighbors. He pointed out the company has brought a clean industry to DeSoto. The only waste produced by the pallet manufacturing process is small scrap pieces that are recycled at the plant.
The plant doesn't add much truck traffic to the industrial park. Rehrig said the company ships two truckloads of pallets a day.
Rehrig Pacific hopes its new central location and its commitment to new technology will give it an edge in what Rehrig said is a competitive plastic pallet market. One concern the company did have about the location proved to be unfounded.
"We heard there was a tight labor market," he said. "We had no trouble filling our positions."
Rehrig Pacific will eventually employ 45 to 50 people who will operate the plant 24 hours a day, seven days a week.
"We need to pay for the plant," Rehrig said.
Rehrig Pacific is a family-owned Los Angles-based company. Rehrig's great-grandfather started the company in 1907 when he began making wooden battery containers. When plastic replaced wood in battery casings, the company began making milk crates, beverage containers and "any kind of crate we could try our hand at," he said.
Rehrig Pacific's most successful products were its beverage crates, and the company eventually earned national contracts.
The company that once had to change its product line when plastic changed its market, has now come full circle. Rehrig Pacific is marketing its plastic pallets as a durable substitute for heavy-duty, quality wooden pallets, Rehrig said.
Like the quality wood products they are replacing, plastic pallets are too expensive for one-time use.
They are used when shippers know they will be retrieved, which makes Rehrig Pacific's guarantee of durability important.
"We guarantee our pallets for five years," he said. "We have beverage cases out there that are 12 years old.
"The plastic pallet industry is growing, and we're riding along with that."
DeSoto figures into that growth, Rehrig said.
"We were in a hurry to get things going, so we used our Dallas plant as a blueprint," he said. "That's okay because it gives us plenty of room for growth."
More like this story