Getting to know man's best friend
Wayside Waifs comes to DeSoto Library to teach animal safety
Jim McCrossen and Kaffee brought a message to the DeSoto Library last Thursday. Although McCrossen did all the talking, it was the 6-year-old chocolate lab that captivated the audience.
"She loves children," McCrossen of Wayside Waifs of Kansas City said. "As you can see, they're pretty fond of her, too."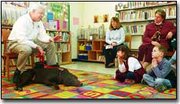 Five children and four adults came to the library to listen as McCrossen and Kaffee gave a presentation in responsible pet owning and animal safety.
"I'm a little afraid of dogs," Madison Bryant said at the end of McCrossen's presentation. But she was soon cautiously approaching Kaffee, who lay contentedly on her side as four other children stroked and petted her.
We should be cautious of strange dogs, McCrossen said. Too often, dogs bite strangers who only want to pet them.
Some dogs don't particularly like people and others misinterpret the meaning of an outstretched hand, McCrossen said.
Before approaching a dog on a leash, always ask its owner if it is okay to pet the animal, McCrossen said. If the owner says the dog is friendly, approach the dog with your hand in a fist, which will save fingers should the animal decide to bite, he said.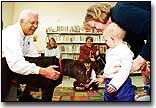 "A dog won't see a fist as a threat," he said. "Let the dog sniff you. Dogs smell to get around in the world.
"Pet the dog behind the ears or under the chin. Dogs love to be scratched behind the ears or under the chin."
Other tips McCrossen shared with the children were:
Never stick your hand over or through a fence to pet a dog.
Never run from a threatening dog.
If attacked, curl up on the ground while covering your face with your fists. Yell anything necessary to attract help.
If a dog threatens you on a bike, keep your feet up if possible. If forced to get off the bike, keep the bike between yourself and the dog.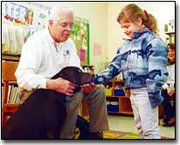 Wayside Waifs has 40 to 60 dogs and cats turned over to its care everyday it's open, McCrossen said. He urged anyone wanting to get a pet to adopt it through an animal shelter and not buy one from a breeder.
"The only problem with going to an animal shelter is that they all look so nice, you'll want to adopt them all," he said.
McCrossen said the staff at Wayside Waifs developed the program he and other presenters give throughout the metropolitan area. He had to be trained, and Kaffee had to be checked out before they started giving the presentations.
"Vets trained in animal behavior tested her to see if she was stable around children," he said.
More like this story