Sheriff's officers find easy pickings on K-10
Johnson County Sheriff's Deputy Bob Hamilton shook his head Monday as another speeding motorist on Kansas Highway 10 set off the alarm on his radar gun.
"I think we could be here everyday, 24 hours a day, and never slow them down," he said.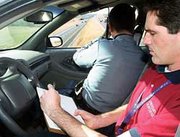 That might not be practical, but for three hours Monday, Hamilton trained his radar gun on K-10 traffic, looking for speeders from his vantage point on the Kill Creek Road overpass. When the gun went off, fellow officer Mark Burdolski wrote down the vehicle's speed and the time before relaying the information to five chase cars ready to pounce.
In the so-called interventions first 2 1/2 hours, 24 drivers earned a ticket for driving from 75 mph to 85 mph. Hamilton said.
"I clocked people going faster, but I didn't have any chase cars available," he said.
At the end of three hours, the officers had issued 41 tickets, Hamilton said.
Lt. Daryll Reece said the intervention is an effort by the community policing division meant to remind motorist they are being watched and to slow down. A similar intervention late last month garnered 48 tickets in a three-hour time span.The division will man another intervention in the coming weeks, Reece said.
News this week that the Kansas City metropolitan area in the 10th deadliest city to drive in nationally only underscores the need to slow down, Hamilton said.
"People are always going to push it," he said. "If it's 70 mph, they are going to go 75 mph. We're just trying to get people to slow down with the holidays coming up, so they can enjoy them with their families."
K-10 is known for speed, Hamilton said. But he said the time speeders save in the relatively short drive from Lawrence to Kansas City doesn't justify the safety risk.
The interventions might not be slowing down K-10 traffic, but they do make revenue for the city of De Soto. The stretch of road the officers have monitored in the first two efforts were entirely within the De Soto city limits, Reece said. All the tickets will go through municipal court, he said.
A new ordinance the city passed in July, tripled the cost of speeding tickets and other traffic violations.