Balancing the books:
Teenage workers juggle work, school
Justin Cloud has two ambitions. The high school junior wants to become an obstetrician and he wants to be as independent as possible now.
To realize the second ambition Cloud is working four nights a week at Doc and Bruties in downtown De Soto.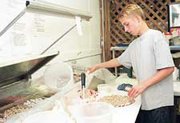 If he is to achieve his career goal, Cloud said he is aware he has to establish his academic credentials in high school. With that knowledge, he is taking senior classes this year at Basehor-Linwood High School.
His two ambitions are not in conflict, Cloud said.
"I usually get my homework done before I go to work," he said. "I'm not going to let my grades slip."
Cloud candidly admitted his academic performance slid late in his sophomore year. That led to a conversation with his parents, Mary and Floyd Cloud.
"My parents didn't want me to work this year," he said. "I want to make my own money without depending on my parents."
His parents, Cloud said, agreed to let him work. But they also told him there would be consequences if his grades began to suffer.
De Soto High School guidance counselor Cindy Crabtree said parental concerns over their children's work schedules are common. It is a concern high school staff members share when they see students nodding off during early morning classes or performing below their school-year work schedules to 15 hours a week or less. K-State Research and Extension family Charlotte Shoup Olsen suggested a tighter schedule.
"Research suggests 10 hours," she said. "Anything more than that and you start to see problems."
Crabtree said her concern is late hours. Students may work at larger department stores that close at 9 p.m., but by the time they clean and restock, it can be near midnight before they get to bed, she said.
With balance, jobs can offer students a very positive experience, Crabtree and Olsen said.
"I see kids who get a lot of validation from their jobs," Crabtree said. "It can be a very positive experience. It teaches responsibility and time management."
Another concern parents have as students take on after school work loads is that they are depriving themselves of a richer high school experience by foregoing extracurricular activities, Olsen said.
That can be true, Crabtree said, but she also pointed out some students have never been interested in those activities.
Cloud said that is true in his case.
"I go to school to get an education," he said. "I'd rather make money than stay after school."
Olsen said students who insist on heavy workloads might be cheating themselves out of even more valuable experiences quality time with parents during the evening hours.
"Not only are issues discussed at those times, but those are memory building moments," she said. "We think of vacations and other big events as memory-building occasions, but family memories are built day to day as we sit around the dinner table."
Olsen said she was unaware of research examining how many high school students are holding jobs, but assumes the number has increased. She assumes there has been a corresponding decrease in teens working on family farms and family businesses.
That second pattern hasn't completely disappeared. Mandy Hougham works with Cloud at her father's restaurant five nights a week. Like Cloud, she said her work schedule doesn't interfere with her school responsibilities.
Block scheduling allows them to finish much of their homework during the school day, Cloud and Hougham said. Cloud said any homework he doesn't finish at school, he can complete in the 90 minutes of free time he has before leaving for work in the evening.
With the exception of a middle school student who works at the restaurant, Denny "Doc" Hougham said he doesn't closely monitor when his student-employees leave. The restaurant closes at 9 on weekday evenings, and the students are out the door soon after, he said.
His student employees, Hougham said, probably see their paychecks as the biggest reward from their work experience. But he said they learn real-world lessons by meeting their restaurant responsibilities.
"I give them an education they won't get at school," he said."abilities.
"I council many students on that," Crabtree said. "Teachers do as well. Teachers take a very active role in monitoring students."
For the most part, though, Crabtree said the high school's students do a good job of balancing jobs and school.
As a rule, Crabtree said students should limit their
More like this story