Yearlong community effort has De Soto firefighters seeing heat
De Soto firefighters will be a little safer the next time they respond to a fire call.
The De Soto Fire Department recently purchased a thermal imaging camera with funds raised through a yearlong community effort.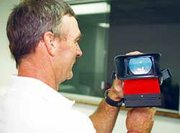 The $14,500 camera sees heat rather than light, which allows it to see what the human eye can't. Its three-inch monitor can pick up a thermal image of a victim in a dark, smoke-filled room. It is a capability that could save the life of a firefighter or victim trapped in a fire.
But De Soto Fire Chief Kevin Ritter said that is only one of the camera's capabilities.
"We're finding more uses for this camera every day," the chief said.
Firefighters can scan walls or ceilings to find hidden hot spots, Ritter said. Such images tell firefighters what areas they should avoid for their own safety. The department can also concentrate its efforts at the right spot.
"We won't have to rip down the whole ceiling to find out where the fire is," the fire chief said. "That will make insurance companies happy."
The camera's thermal images will also help the department determine when a fire is truly extinguished and in no danger of rekindling, Ritter said.
The camera's usefulness is not limited to fire calls, Ritter said.
"Departments are finding these cameras useful in elderly walk-a-ways, missing children and other search and rescue situations," he said. "This camera can pick up the radiant heat left by a foot- or handprint for 30 to 35 minutes."
A factory representative is scheduled to visit De Soto to provide training on the camera, Ritter said.
The camera's purchase came after a yearlong community effort led by the De Soto Firefighters' Organization, created for the purpose of raising funds. Ritter said he was "astonished" by the number of De Soto businesses and organizations that responded to letters requesting donations.
"The community's support was fantastic," Ritter said. "We wouldn't have this camera without the public's support."
Among the events that helped raise money for the purchase was a De Soto Rotary Club dinner theater and a VFW Ladies Auxiliary charity bingo. Helping put the effort over the top were donations from Linden-Tripkos Memorial VFW Post 6654 and Intervet Inc. of $6,000.