Taste of success has
DHS

soccer team looking for more
Don't be surprised if the De Soto High School soccer bus has a sign on the back of it that reads, 'state or bust.' That's exactly how the players feel.
"We have the perfect chance to go to state this year and hopefully we can get it in our heads that we can do it," junior Jesse Wilson said.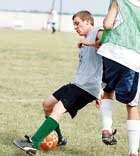 The reason Wilson says the Wildcats have a great chance at state is because of the wealth of talent they have returning. Four seniors, three juniors and three sophomores with varsity experience will be back and for Coach Mike Murphy that will make things real easy.
"I'm not a real big fundamentals guy," Murphy said. "So it's nice that I have a group who can step right in and get to work."
In every aspect of every practice this season, that work will be done with one thing on their minds going to state. Last year DHS weathered the split with Mill Valley by going 12-6-1, and lost in the regional final to the eventual state champion. Having learned from that experience, Murphy and the rest of the team are confident they can make it further this year.
"We feel like we've seen the best that 4A has to offer and we feel we can compete with that talent," Murphy said. "All you can do at this point is project based on what you did last year and what you've got returning, but I think based on that we ought to be very good."
Murphy said the only real hole on the team will be in net because the only goalies have not played much at the high school level. Senior Chris Dabbs and junior Harley Mostaffa will handle the net-minding for De Soto, and Murphy said that having two players who are able to play the position will help overcome their lack of experience.
"Goalie won't be a weakness for us in ability," he said. "They both have experience, just not at the high school level. But that's where it will be nice to have two of them back there."
Murphy said he couldn't imagine any team having any better talent playing in front of the goalies. With two forwards who are scoring machines, one of the best midfields in the state and a defense that Wilson said could hold teams scoreless without a goalie behind them, Murphy has a seasoned team in his control.
"I think our defense is going to be strong and I think our midfielders and forwards are going to be even stronger," Murphy said.
Add to the list of returning players a solid group of newcomers who have played together, including two freshmen who might see action. Wilson said he thinks this team will be as good as any.
"We know what all our teammates do without even thinking about it," Wilson said. "We know what each player is capable of, and that can only make us better."
Upperclassmen will help Murphy. Wilson, included in that group, said he would be hard on the younger guys to make sure that they maximize every opportunity. He also said he expects the seniors to do the same.
"Our seniors this year are really good leaders," Wilson said. "They'll push us to the limit and make sure we know what we need to get done."
For Murphy, that's the main reason that he'd be disappointed if this team didn't go to state because the seniors deserve it.
"I would be disappointed," Murphy said. "Because this is their last shot. They're a solid group and they know what it takes to win. They've seen it before. Now they've just got to go and do it."
The Wildcats will open the season Monday, Aug. 27, at Bonner Springs and will play their first home game Thursday, Aug. 30, against Highland Park.
More like this story