MVHS

players proving quick studies
Typically the first week of high school football practice is a week where the players and coaches run through basic drills and fundamentals as part of an introduction to the upcoming season.
At Mill Valley High School, however, they're getting to work right away.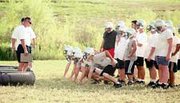 Monday, Aug. 13, marked the first day that any school in Kansas could hold an official practice and after just a few practices, Mill Valley senior Nick Sterner said he was impressed at how things were progressing.
"I've been really impressed and I think the coaches have too," Sterner said. "Everybody's working really hard and picking stuff up really fast."
The Jaguars are picking up the drills so fast, in fact, that Coach George Radell and his assistants have already been able to incorporate some offense and defense into their practices.
"We've learned a few plays on offense and a few plays on defense," senior lineman Dustin Stinnett said. "We're already learning our plays because coach likes to get down to business when we're out there and so far everyone's been working really hard to make sure we can do that."
Stinnett and Sterner are both returning starters, so for them the first week has been mostly a recap of stuff they already know. As with any team and any season, however, Mill Valley did lose some seniors from last year's squad and Radell said he's been working with the playbook to account for the new personnel.
"You've got to crop that playbook a little bit and you add a play or two that fits your players," Radell said. "Or you might just get rid of a play that will no longer work."
So far, Stinnett said he didn't think Radell had eliminated any plays, rather he has just tweaked the formations a little.
"He hasn't really talked about it," Stinnett said of Radell's management of the offense. "But he's changing formations a little out there at practice and the guys who have been with him a while can probably recognize that."
Radell said over the summer he worked extensively with the playbook, and one thing he tried to do was increase the number of formations that the Jaguars play from.
"I put in three new formations, and I can foresee these becoming some of our more popular plays," Radell said.
Like Stinnett, Sterner said he'd noticed a few changes in the offense, but for the most part everything looks about the same.
"He's changed some small things up, but I think we're going to stick with what has worked for us in the past," Sterner said.
This week, MVHS practiced in the mornings and then in the evenings as well, but did so under a heat schedule. If the school continues to operate on a heat schedule practice will remain at 6 p.m.