Dedication rewarded at JoCo Fair
The De Soto Pioneers 4-H Club didn't need an ark to get to the Johnson County Fair in Gardner last week, but it would have provided Noah a good start in stocking his.
Club members took a menagerie of pigs, rabbits and cattle to the fair. De Soto 4-H community leader Denise King said the fair was a reward for the dedication the 4-H'ers demonstrated throughout the year.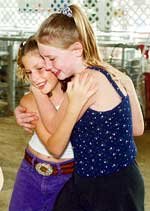 "The kids work very hard and the ones that breed animals go to the barn before school starts in the morning," she said. "It is a big commitment that teaches responsibility and respect for the agriculture field."
But the community leader emphasized kids don't have to raise animals to participate in 4-H. King said 4-H'ers can do projects in agricultural areas, crafts, food, rocketry or woodworking.
Pioneer 4-H member Cassie Gregg brought projects from three different categories to this year's fair crafts, food and flowers. Gregg made all kinds of crafts and prepared bread, cookies and rolls.
"I just like going back to the fair every year and seeing all the old faces from different 4-H clubs," he said.
King said she was pleased with the participation of the 24 Pioneer members but the number of animal projects declined from previous years. De Soto 4-H members who participated in the animal or livestock judging projects were Matt Cowles, Allyssa King, Brennan Opfer, Clarissa Shields, Breanna Sigman and Claire Siscoe. The 4-H group also proved that they were community oriented by donating over 1,000 pounds of canned goods to the De Soto multipurpose center.
"I think the numbers were down this year because of the heat," community leader King said. "All of our members brought at least one project to the fair."
Allyssa King, Cowles and Sigman took part in the livestock judging contest with King placing on the third-place team. She was also crowned reserve champion in the flowers and public speaking contests.
Cowles, a Mill Valley freshman, competed in a livestock judging event for the first time, while Sigman, a Lexington Trails sixth-grader, participated in livestock judging events throughout the year.
"The first time you want to do something, you sign up for it and it ends up turning out okay," Cowles said. "You end up learning a lot about animals."
Cowles, who was named reserve champion in the barrow hog category, became interested in swine projects through a friend. In the future, he hopes to continue working on livestock projects.
Sigman, who won the best in breed of rabbits, said she will focus all of her attention on 4-H rabbit projects in the future. After showing both rabbits and pigs at this year's fair, Sigman said the rabbits are smaller and easier to manage. However, she did enjoy the livestock judging contest.
"Livestock judging is fun but sometimes a little hectic," Sigman said. "You learn how to judge animals and it helps me pick them out each year."