Getting their kicks
De Soto players get challenged with Challenger soccer camps
The Challenger Sports British soccer camp invaded De Soto's Miller Park this week with the help of three soccer instructors.
Chris and Jen Bertrand and Michael Parry of the Lenexa-based Challenger Sports worked with 18 De Soto players of various ages on soccer drills in technique for a week-long camp.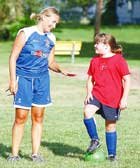 "Because the camp is in a smaller town, we get the chance to work with a wide variety of different age groups at the same time," Chris Bertrand said. 'We teach them the basics that they need and try to get them in as many game situations as possible."
Bertrand, who played for a semi-professional British team called Sitting Bourne and coached soccer at Lawrence High School for three years, said he likes to see the younger kids learning the fundamentals of the sport. Jen Bertrand played soccer for Mississippi State University in Starkville, Miss., while Parry has coached the sport for over 20 years.
"A lot of kids have never kicked a soccer ball and this gives them a chance," Chris Bertrand said. "The camp lets the younger kids gain a love of the game."
The camp created interest among young players to continue their participation in the sport and gave experienced players a chance to hone their skills. Brett Hevel, 10, learned many new things about soccer at the Challenger camp.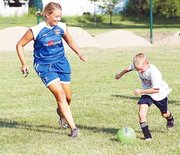 "The scrimmage games were really fun," Hevel said. "I learned a lot of things like keeping the ball close when you dribble and some different moves."
Chris Dabbs, 17, will be a senior on the De Soto High School soccer team this fall. He said the camp has benefited him as well as the towns' younger athletes.
"I liked the camp and I learned better control and new techniques that will better myself," Dabbs said. "The camp teaches younger kids the correct way to kick the ball and they are really going to benefit from it."
Dabbs' father, David, coordinated the game and agreed on the importance that it serves for the town's soccer players.
"They are learning the skills, learning how to be a team and how to work as a team," David Dabbs said. 'I can tell by the end of the week that they will have learned a lot about how to play the game."
More like this story