Getting better worth the weights and summer play
DSHS

boys basketball team tries to improve on last season's record
The De Soto boys basketball team showed that going from worst to first can be done in less than a year.
The Wildcats, who finished with a 1-15 last place record in the Kaw Valley League last season, rebounded to an 8-2 first place showing at the JCGAA summer league in Shawnee. That impressed Head Coach Jason Generally.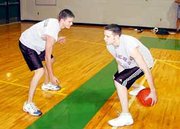 "All of them did an exceptional job this summer," Generally said. "Justin Haub impressed the coaches with his maturity and confidence. Our team is continuing to play hard and all of the kids did better this summer."
Haub, a returning senior who played a limited role with the varsity team last season, said he has been committed to improving his game for the upcoming season.
"I have been lifting weights and coming to the gym to play basketball every day," Haub said. "I felt pretty good about winning the league. We stepped up our game as a team."
In summer league play, De Soto faced teams who had a mix of junior varsity and varsity players on their rosters. Some of the schools represented at the league were Blue Valley, Blue Valley Northwest, Saint Thomas Aquinas and Shawnee Mission North.
"This was an improvement from last season," senior Tad Twidwell said. "We played a lot more calm because we played together."
Generally said that while the team's showing at the summer league is a sign of improvement it won't necessarily guarantee a first-place finish in Kaw Valley League play this season.
"I think the first-place finish is an indication that these kids are winning and gaining confidence," Generally said. "They have the same effort as last season but winning is a process and it is a learning process. I am happy and excited for them this year."
According to Generally, the team has been practicing for two hours per day and spending another 60 minutes in the weight room. He said that the core of seniors will be a major factor when the season comes around.
"Funny things happen when you are a senior and you take a natural leadership role," Generally said. "The younger kids respect seniors and the seniors really respond to that." Members of the first place team were Haub, Twidwell, seniors Austin Cowan, Matt Holton, Todd Manson, Bart McGivern, and Willie Meier, junior Mike Allen and sophomores Kyle Andrews and Pete Crall.