The best a man can get
Collector searches far and wide for antique Gillette razors
One might say that as a collector, Edward Schmiedeler has a sharp edge.
When not working for an advertising firm, the rural De Soto resident spends much of his time, energy and resources hunting down his favorite collectible razors. Not just any razors, but vintage Gillette safety razors.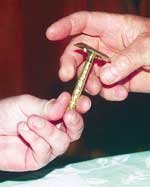 "They're fascinating," Schmiedeler said. "The Gillette Company is what's really fascinating. They don't seem like much nowadays, but in the old days they were really something."
Schmiedeler's collection contains Gillette razors dating from 1902 to 2000. His collecting began after he inherited a 1920s Gillette shaving set at age nine. He kept the set and his interest in the company and its product grew. After learning about Gillette's long history, his curiosity blossomed to a desire to own pieces of the history.
"What makes it fun is not only tracking them, but I have an album to display them," Schmiedeler said.
Four years ago, he started his collection with little more than the razor he acquired as a child. Now, at 60, Schmiedeler said he has hundreds, but admits he's lost count. When shopping for his double-edged obsessions, Schmiedeler has searched flea markets and auctions, but he finds most of razors using a mouse and modem.
"The Internet has caused a revolt in the antique industry," he said. "I buy them mainly through ebay."
Not only has the Internet helped Schmiedeler search for items for his collection, but it's also helped him research and share his information with others. A few weeks ago, Schmiedeler said, he received an e-mail from an individual in Europe who asked for his help in identifying a razor. Schmiedeler was able to give a complete background of that line of razor, using pages of information he had collected fueled by his personal love of the subject.
"I was able to tell him everything," he said. "That's really a hoot to do those things like that. Sharing is just another part of it. There's a little bit of an interesting story about every one of (the razors)."
Though he doesn't mind sharing information, he doesn't display his collection in public often. However, he does participate in an annual display at Crown Center in Kansas City, Mo. This year, some of his collection can be seen at the "Still More Things People Collect" exhibit at the center, running though Sept. 9 in the Level I Showplace of the Crown Center Shops, 2450 Grand Boulevard, Kansas City, Mo.
The display will be one of the few times he shares razors with anyone, especially on a more personal level. While he's devoted much of his free time to learning about the history of the antique safety razor, Schmiedeler said his love for it extends only to its history.
"I just use a disposable," he said. "I save the good ones for collecting."
More like this story