Jaguars hit the courts: Krug recruits first Mill Valley tennis team
Usually, high school athletes are recruited by college coaches. This year at Mill Valley High School, however, high school athletes specifically tennis players will be recruited by a high school coach.
Next spring, for the first time in the school's existence, MVHS will have a boys tennis team. Last year, only two boys tried out for tennis so they played with De Soto High School's team. This year, however, MVHS has its own tennis courts, its own tennis coach and is hoping to have its own tennis program.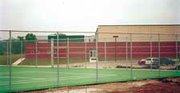 A few months ago, MVHS principal Joe Novak hired Chad Krug to be the school's boys tennis coach. Novak said Krug was hired to teach science, but that his tennis background made him the obvious choice to coach the new team.
"I think Chad's going to be an outstanding teacher, that's the most important thing," Novak said. "But the fact that he has a solid tennis background made things even better for our situation."
Mill Valley's situation is that right now the students aren't aware there will be a boys tennis team. Novak said that's where Krug comes in.
"The job for Chad will not only be to teach science and help coach the girl's tennis team in the fall, but also to begin recruiting boys to play in the spring," Novak said.
Krug has turned to a number of sources, including Novak, to brainstorm for ways to recruit. Recruiters will hang posters, have meetings and make announcements, but according to Krug just hanging things and hoping will not be enough.
Krug's father, Bob, who has coached high school tennis for several years, told him some specific things to look for when trying to find tennis players. The things Bob Krug mentioned, however, were not physical traits. Instead they were general characteristics.
"My dad has helped me a lot with what kinds of kids to look for," Krug said. "He told me to look for good basketball players who might not have a spring sport, or just good athletes in general. He also told me to look for kids who just like sports and might be willing to try something new."
Nick Sterner, a MVHS senior, might be one of those athletes. Sterner, who starts in both football and basketball during the fall and winter, said he didn't play tennis last season because he didn't want to travel to De Soto. As a freshman and sophomore at DHS, Sterner played tennis and he said if Mill Valley could get a team of its own, he would probably play tennis this spring for the Jaguars.
"After going all year playing football and then basketball, tennis is just a lot more relaxed but also still competitive," Sterner said. "I'd probably pick it up again because I played in the past, but I'm not sure yet."
Like anybody would be, Krug is a little bit nervous about heading up a new program. The fact that this will be the first year for Krug as well as the first year for boy's tennis has added to that uneasy feeling. But overall, he said, he was ready for the challenge.
"I'm excited, but also a little cautious and weary of balancing me being a first-year coach and a first-year teacher with the fact that it's a first-year program," Krug said.
Novak is also a bit unsure of what to expect, but said he anticipated tennis at Mill Valley becoming a huge success.
"When I was the principal at De Soto High School we always had a fairly strong tennis program," Novak said. "And the bottom line is that I want the kids here to have the opportunity to participate. I have every reason to believe that the program will be a success this year."