Work begins on city fountain project
Casey Johnson has learned that accomplishing something special sometimes requires doing something he would rather not do.
The 14-year-old Johnson took on the De Soto Enhancement Committee's effort to install a fountain at the flag memorial in Miller Park as an Eagle Scout project earlier this year. His efforts have included soliciting donations, lining up volunteer labor for the project and selling commemorative bricks to help pay for the effort.
"I don't really like selling stuff," he said. "But I had to do it. You do it because people expect you to, and you should."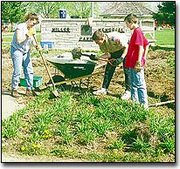 Actually, Johnson wasn't supposed to sell the bricks, said GeorgeAnn Taylor of the Enhancement Committee. But in the month that he did, he sold a "couple hundred dollars worth," she said.
The Enhancement Committee has collected enough money to finish the project, but still has bricks available for those interested in purchasing them, she said.
The goal of Eagle Scout projects is to learn lessons in leadership. Johnson has concentrated on organizing the installation of the fountain donated by Justin Wood, owner of the AquaTerra Waterscaping.
The work has started at the park during the last few weekends. Last Saturday, Johnson dug trenches for an electrical conduit, a waterline, drainage pipes and the base of the fountain.
Tammie Johnson, a member of the Enhancement Committee and Casey's mother, said the work would continue the next four to five weekends.
Duke Neeland has volunteered to install the lights at the fountain, and Sonny Ellis will do the concrete work. Tammy Johnson said Casey is still working to find other volunteers, donors and laborers to finish the project.
The best part of his Eagle project is working with others to make something happen, Johnson said.
"It's been great to see the whole thing unfold," he said. "It will be nice to show my kids in 20 years."