Jaguars lose a pair to Piper
Fielding miscues dampened Mill Valley's hopes of an undefeated season on Tuesday.
The Jaguar baseball squad (5-2 overall, 3-2 league) dropped a pair of close games against visiting Piper, 7-5, 7-4.
Last Thursday, Mill Valley handled Tonganoxie, 7-4, 13-1, before taking on Piper.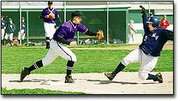 The Pirates held off the Jaguars in both contests, just when it seemed that the hosts were destined to make a run.
"Every time we tried to get back into the game, (Piper) answered the call," said Jaguar Coach Chad Garrett.
Mill Valley trailed throughout both games, but did receive some offensive production from junior outfielder Alex Shepard. Going a combined 3-for-7 in the twinbill, Shepard hit two home runs and drove in four runs.
The Pirates kept the Jaguar bats at bay, fanning Mill Valley 14 times in the opener.
"Our pitching was not bad, but we just didn't play good fundamental defense behind them," Garrett said.
In the nightcap, Mill Valley committed four errors in the 7-4 loss.
"The pitching still wasn't crisp, but we only allowed three walks in that game," Garrett said. "We just have to field the ball better."
Shepard connected in the fifth inning with another two-run blast to help the Jaguars offensively, but Mill Valley could never grab the lead.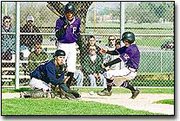 "Piper just wanted it more than we did," Garrett said. "Every time we gave them any daylight, they found a way to advance the runner and get the key base-hit."
"We've got to find a way to win those close games," he added. "Two losses aren't the end of the world, but we know we could have come away with a couple of wins."
Against Tonganoxie, the Jaguars called upon one bat, but this time Mill Valley came away with a pair of victories.
Jaguar junior Doug Antilla drilled the Chieftains with a pair of three-run triples, one in each contest.
Antilla keyed the attack in the opener, clearing the bases en-route to a five-run fourth inning.
Mill Valley junior Matt Mauzey went the distance, tossing a four-hitter and allowing no earned runs and no walks in the win. Mauzey went six innings strong and faced 26 batters in the complete-game victory.
In the nightcap, Antilla provided the offensive punch again with a three-bagger, this time sparking a six-run third inning. Antilla finished the doubleheader with a 4-for-6 plate performance, while driving in seven runs.
Senior infielder Joey Fitzgerald also did damage at the plate, going 2-for-2 with a pair of walks and two RBI.
Junior pitcher Sam Bevan earned the win for the Jaguars, going four innings and allowing just four hits and one earned run.
The Jaguars will have a loaded schedule coming up this week, squaring off against Spring Hill in a rescheduled doubleheader.
On Monday, Mill Valley will travel to Lansing for another rescheduled twinbill from April 10. The Jaguars will not have a day off as they will travel to face Basehor-Linwood on Tuesday. The Bobcats are currently 7-1 overall, tied atop the Kaw Valley League standings with Piper at 3-1.
The postponed finish from April 5 against Perry-Lecompton has not yet been rescheduled.
More like this story