Lady Wildcats face tough opponent in season opener
The Lady Wildcats fell victim to a more experienced team in their season-opening doubleheader against Santa Fe Trail Thursday afternoon.
De Soto Coach Glenda Williams said her young team was in over its head from the start.
"It was a real tough game to open the season with," she said. "They're very good and we're really inexperienced right now. We only have one returning varsity player from last year."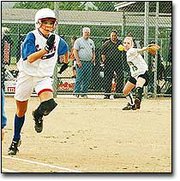 The Wildcats lost the first game, 10-0. They were able to muster a little offense in the second game, but came up short, 10-2.
"We played a little better in the second game and got a few hits," Williams said.
Freshmen Emily Baker and Jara Nori each got on base with singles, as did senior Shannon Bunce.
Senior Kayla Glass pitched the first game. She struck out two, walked two and gave up several hits.
Defensive errors made it difficult for the Wildcats to keep either game close.
"We just made too many errors," the coach said. "Eight of their runs were unearned. That's not good."
Williams said her team was disappointed, but not discouraged by the losses.
"The older girls on the team understood. They knew Santa Fe Trail would be good, so they knew what we were up against," she said.
The game did serve its purpose in showing the coach what her team needed to work on in practice.
"We've definitely been working on defense and on hitting," she said. "Plus everyone is still figuring out how to play as a team and who should be where on the field.
The Wildcats' game against Perry- Lecompton scheduled for Tuesday night was postponed due to rain.
The Wildcats will face Lansing in a double header at 4:30 p.m. at the JCGA complex in Shawnee.
More like this story